May Day Holiday: Sichuan ranks first nationwide in tourism revenue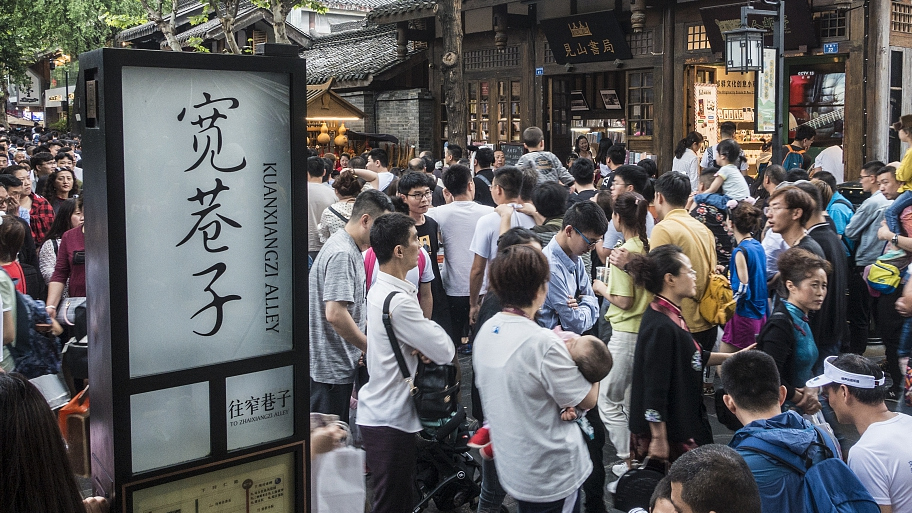 Wide and Narrow Alleys in Chengdu, southwest China's Sichuan Province, welcomes a large number of tourists, May 2, 2019. (Photo: VCG)
Tourism revenues over the May Day holiday in 15 Chinese provinces exceeded 10 billion yuan (1.47 billion US dollars), with southwestern Sichuan Province ranking first out of 23 provinces, China News Service reported Wednesday.
During the past holiday, there were 195 million domestic tourists in China, an increase of 13.7 percent from the previous year. Tourism revenues reached 118 billion yuan (17.3 billion US dollars), marking a growth of 16.6 percent, according to data released by the Ministry of Culture and Tourism (MCT).
Among the provinces that have published tourism data, Sichuan Province ranked first as the only province with tourism revenue of over 30 billion yuan (4.41 billion US dollars).
Chengdu, Sichuan's provincial capital, has become popular with tourists eager to take pictures of its famous urban landmarks and enjoy hot pot. High expenditure from consumers is closely tied to Chengdu's ability to attract overnight tourists.
Revenues from overnight tourists in Chengdu reached 12.55 billion yuan (1.84 billion US dollars), increasing 81.7 percent from last year. Staying overnight means that tourists spend more time traveling and have a more in-depth travel experience, leading to an increase in spending on catering, entertainment and shopping.
The cultural and tourism market has boomed beyond expectation and various measures have been taken to improve the tourist experience locally. Packages catering to families and postgraduate students have become trendy, stimulating consumption on culture, leisure, catering and rural areas, according to MCT.