China sees nationwide summer travel rush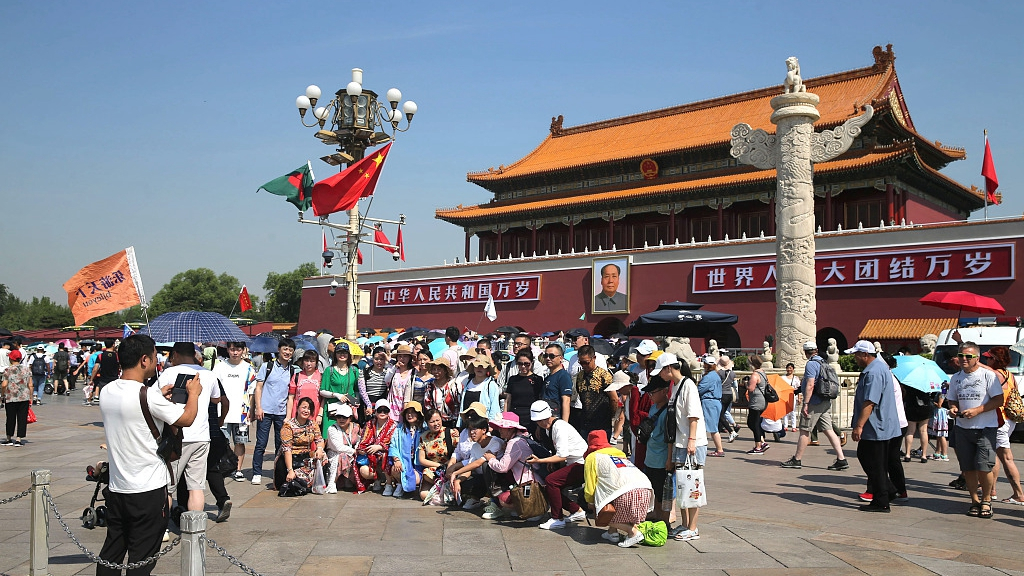 The Tian'anmen Square in central Beijing sees an increase of tourists, July 4, 2019. (Photo: VCG)
The summer holidays are in full swing with many cities across China seeing a surge of tourists. Travel-related bookings have witnessed a sharp increase since mid-June, according to a recent report released by Lvmama, an online travel agency in China.
Among them, parent-child family trips make up a large proportion, as more parents would like to take their children to "see the world." In terms of domestic trips, theme parks, especially water parks in the cities of Guangzhou, Shanghai, Hangzhou and Wuxi, are favored by many families. Also, short-term overseas study tours continue to gain in popularity this year.
The growth in tourists has put much pressure on the national transportation system. Some 720 million passenger trips are expected to be made on Chinese railways from July to the end of August, up 8.1 percent year on year, according to the China Railway Corporation.
In order to meet the challenges, new Fuxing high-speed trains have been put into use.
Measures have also been taken to provide smooth flights. Shanghai's Pudong and Hongqiao airports are offering faster boarding procedures, a green channel for children and upgraded commercial facilities along with garbage-sorting.
According to the Shanghai Airport Authority, the two airports are expected to handle a total of 21.4 million travelers during the travel rush period, a year-on-year increase of 4 percent.
However, more rainstorms and typhoons are also expected during Shanghai's flood season, so flight delays and cancellations will hit both airports more frequently. Passengers are advised to check with the airlines in the event of bad weather before making their trip to the airport, the authority said.