Cycling across France: Part two - Tour De France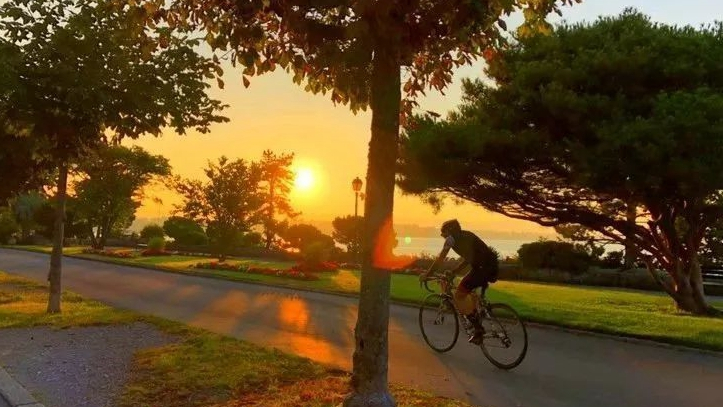 (Photo: CGTN)

After the Marmotte Grandondo game, I took a two-week gap before the next game, the Tour De France. I went on a riding trip to Geneva, Switzerland. Riding along Lake Geneva in the early morning with the wheel against the slate and birds singing, I felt relaxed and comfortable all the way.
My first station was the Union Cyclist International (UCI) headquarters in Switzerland. The main body of the center was the track field, surrounded by office areas. There is an honor wall of famous cyclists' names and pictures like Bradley Wiggins and Chris Froome, and I felt very proud to see Chinese athletes' names on the wall. Around the UCI headquarters was a 30-kilometer training way built along the river. The UCI staff dining room was open to the public as well.
After the short break came the second race of my trip, the Tour De France in Annecy. The whole course was 169 kilometers and the cumulative climb was 4,017 km, including one HC grade slope, three first grade slopes and one fourth grade slope, making it the toughest Tour De France over the last 10 years.
The 15,000 athletes were divided into 15 batches according the estimated finish time they submitted on the race day.
Many athletes from around the world chatted with me when they saw the flag on my sleeve. A road book was prepared before the race which, according to ASO's road book standard, had a clear layout of every supply depot, the distance between and grade of the slope. Audiences shouted "allez!" loudly to cheer the cyclists, which was very motivating for me.
The scenery was so beautiful along the way, and it was the most important part of the Gryffindor race for me. Riders would meet the last two climbs at the 134 km point. One was 8.8 km long with an average slope of 8.9%. The other was 7.5 km long with an average slope of 8.5%.
Coke, water, energy drinks and coffee were offered at the supply depot.
When you crossed the finish line, everyone would cheer and people used a speaker to shout your name. It was really an adventure for me to experience European cycling culture and riding in such atmosphere was the incredibly enjoyable!