Xinjiang gives new tourism goodies to lure crowds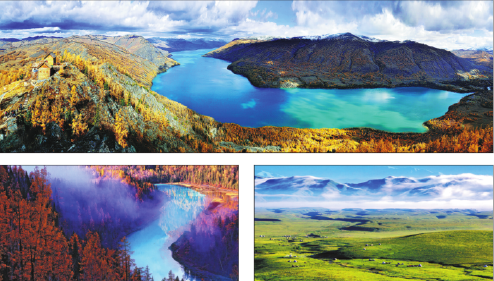 July marks the start of the peak tourism season in Xinjiang when travelers get to enjoy the best scenery the region has to offer, such as sights of the Kanas Lake (top and left below) and the Nanat grasslands. [Photo provided to China Daily]
The northwestern Xinjiang Uygur autonomous region has introduced six special tourism trains and 10 self-drive routes to woo tourists.
These routes cover major tourist attractions in the region, with some even extending to the neighboring Dunhuang in Gansu province and Almaty in Kazakhstan.
"Xinjiang has 56 varieties of tourism resources, accounting for 83 percent of the national total," says Zhang Jie, an official from the Xinjiang tourism development commission.
Zhang adds that the region is home to more than 1,100 scenic spots, including 12 top-rated national tourism sites, seven national geological parks and 17 national forest parks. As these attractions are scattered across the region, driving or taking a train is the best way to see as many of them as possible.
For example, the new tourism train route for northern Xinjiang takes tourists through the Yili River Valley, the Bayanbulak Grassland, as well as Kanas and Hemu towns. Unlike before, tourists would not have to switch trains or buses.
Meanwhile, the train for the southern region takes travelers to Urumqi, Turpan, Korla, Aksu and Kashgar. The trains on these new routes offer bunks, air-conditioning, shower facilities and even karaoke rooms.
The 10 self-drive routes cover the four corners of the region, allowing travelers to explore the region in greater depth.
Last year, the Xinjiang Uygur autonomous region received 107 million travelers from home and abroad, up 32.4 percent from the previous year, according to local government reports. Tourism income also grew 30 percent to 182.2 billion yuan ($28.17 billion).
During the three-day Dragon Boat Festival earlier in June, Xinjiang received 3.54 million visitors, nearly twice the amount during the same period last year, while tourism consumption surged 171.3 percent to 3.21 billion yuan, according to the Xinjiang tourism development commission.
"It's tourism peak season for Xinjiang in July," says Meng Jing, an official with a Xinjiang travel agency that has seen travel inquires increase by 20 percent compared with two months ago.
Local travel agencies and hotels have also reported increased bookings since mid-June. The Jinjiang International Hotel said its daily occupancy rate in the region is currently at over 50 percent. Other parts of Xinjiang also plan to roll out new travel experiences to draw visitors.
For instance, tourists would soon be able to go on a two-day tour in Turpan that features distinctive folk customs and homestays. The city would also offer experiences such as hiking through the Huoyan (Flaming) Mountain, folk dancing, grape-picking and a traditional Uygur acrobatic performance at Grape Valley.
In Altay, a cluster of distinctive homestays would be developed this year at a forest in Burqin county and a fishing village at Fuhai county.
Last year, Xinjiang developed 436 tourism projects with investments totaling 20.5 billion yuan.