Mexican tourism expert says Chinese market key to diversifying tourism in Mexico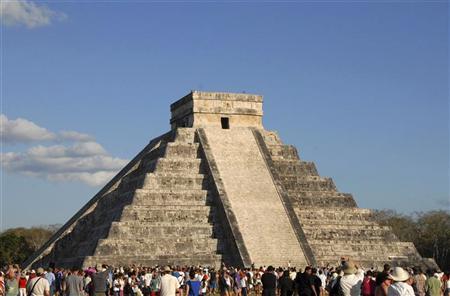 Tourists gather underneath the pyramid of Chichen Itza in Merida in the southern Mexican state of Yucatan March 20, 2012. REUTERS/Francisco Marin
China's tourism potential is key to helping Mexico diversify its tourism markets, according to a Mexican specialist in the field.

In an interview with Xinhua on Thursday, Oscar Romero, an adviser to the Tourism Commission at the Chamber of Deputies, said Mexico should both court new markets and offer new tourism products so as to boost visitor numbers.
"We need to expand our offer and the type of visitors we receive," Romero said, stressing that "there is a lot to explore with China as a country and through its provinces."
To that end, on Thursday night Romero took part in the signing of a tourism agreement between Mexico and southeast China's Fujian Province.
Fujian's deputy director of tourism development, Su Qingci, underscored China's potential for tourism cooperation with Mexico.
"Both countries still have a lot to learn from each other," said Su.
Tourism is the leading industry in Fujian, drawing 383 million tourists in 2017 alone, including 7.75 million foreign visitors, and generating 80.65 billion U.S. dollars, said Su.
Last year, Mexico saw a record 39 million tourists, mainly from the United States, according to the Mexican Tourism Ministry.
"We hope that the industries in both places see the opportunities they have to strengthen the relationship and give tourism development a shot in the arm," Su said.
Mexico's government recognizes China as a major tourism market, with a still modest but growing number of Chinese visitors choosing to travel to Mexico as 74,300 in 2016, for a 33.5 percent increase over 2015.
To grow that figure, air connections between the two countries just got better, with the inauguration on March 21 of the first direct flight between Beijing and Mexico City operated by a Chinese carrier, Hainan Airlines.
That alone "served a lot to diversify" Mexico's tourism, opening new opportunities to market its destinations to new segments, Romero said.