Airbnb cofounder addresses Tsinghua students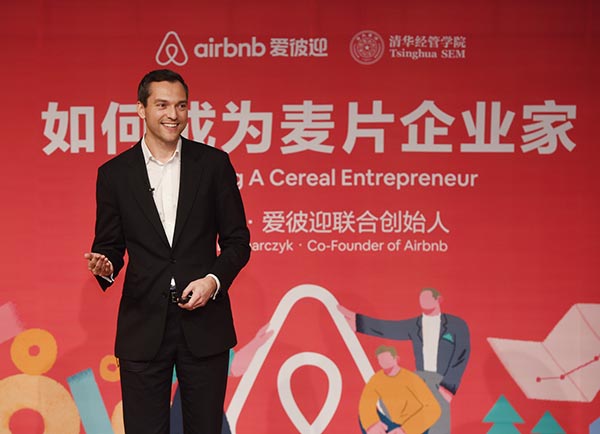 Home-sharing platform Airbnb's cofounder Nathan Blecharczyk recently delivered a speech at Tsinghua University. (Photo provided to China Daily)
The cofounder of Home-sharing platform, Airbnb, Nathan Blecharczyk, recently delivered a speech at Tsinghua University, sharing his stories of starting a business and becoming an entrepreneur.
He also communicated with Bai Chong'en, head of the university's school of economics and management about enterprising and innovation spirit.
"It's exciting to be here, to see the enthusiasm that students have for hearing the Airbnb story. I hope that some of them will join our team in China in the future," Blecharczyk said.
He said that the seven things he has learnt from his entrepreneurial journey are to be curious, be disruptive, be persistent in the face of rejection, meet your user, champion the mission, never waste a crisis and to empower people.
"My philosophy is to always hire the best people you can," he said.
The company has launched Airbnb Experiences to offer colorful activities that are designed to engage guests during their stay at the company's listed properties. To become an Airbnb Experiences host, one needs to fill out an application and go through proper training.
"We always try to create something that is different and we want to stay true to that. There are strict criteria about what kind of experiences we allow on the platform and our expectations about how the experience is executed," he said.
Blecharczyk has applied himself to different areas of the company over the years, such as the data science and online marketing teams. He said that it's challenging for him, but exciting.
For university students who want to start their own company, his suggestion is to be on the lookout for potential cofounders.
"Firstly, starting a company alone is difficult. Secondly, nobody is perfect. If you have a partner, you can complement each other's weaknesses," he said.
"Finding the fight partner is very hard, but here in university, you're surrounded by people of a similar age and at the same stage in life. It's a great environment for you to make contact and maybe identify future business partners."