Xinjiang's autumnal allure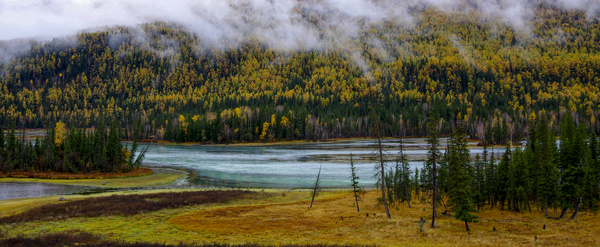 Autumn is not only arguably the most spectacular season in the Xinjiang Uygur autonomous region's north but also is particularly spectacular there compared with other places.

Winter temperatures plummet to below-40 C. The world is coated in fluffy white.
Altay's powdery snow makes it an internationally acclaimed ski destination.
It's a stark contrast from autumn's mosaic of yellow, orange and red leaves that tinge the mountains and reflect on the lakes of such places as the Kanas Nature Reserve and Koktokay Scenic Area.
The Tianshan Mountains divide Xinjiang's 1.66 million square kilometers into north and south.
Northern Xinjiang includes such cities as the capital, Urumqi, Karamay, Tacheng, Altay, Beitun and the Ili Kazak autonomous prefecture.
The south is home to Kashgar, Aksu and Hotan.
Diverse geographical features, rich culture and unique cuisines have made Xinjiang one of the most popular destinations in recent years, and tourism has become a pillar industry.
Over 230 million tourists traveled there in 2019, 100 million more than in 2014. The region was expecting even more this year, until the epidemic.
It reopened to tourists at the start of September, after a six-week lockdown due to an outbreak in mid-July.
All A-level tourist spots are admission-free to attract more travelers.

Shi Manlin has enjoyed lower travel expenses during her travels across the country over the past six months after quitting her publishing-house job since the lift of the COVID-19 lockdown.
The 33-year-old and her friend, Lan Yun, recently traveled though Xinjiang, from Hami northward to Altay via Akasu, Ili and Karamay.
They spent two days hiking in Kanas. They hired two guides, rented two horses to carry their luggage and slept in tents.
The short videos Shi posted on WeChat captured the beauty of the bright leaves, sunshine, blue skies and turquoise springs. They mostly met group tours of elderly photographers along their way.
"Autumn is the most beautiful season for Kanas, and there are few tourists since Xinjiang has just reopened. That's why we went," she says.
"There are lots of rooms available in Kanas due to the epidemic. Otherwise, all the hotels would be full."
Shi and Lan also went to another national 5A-level scenic spot, Koktokay, in Altay's Fuyun county.
It's the hometown of Chinese writer Li Juan, whose essays about the traditional nomadic lifestyle of the local Kazak ethnic group have been translated into French and Korean.
Autumn is when herdsmen on horses or motorbikes ride beside the roads, driving sheep, cattle and camels to their winter pastures.
Li Juan faithfully records nomads' migrations and describes the simple white tents that sometimes stand alone on boundless wild land and other times cluster together near grazing sheep and cattle.
There are occasionally camels, too, especially in the Gobi Desert, which hosts little beyond scattered stones. That is, aside from where the sands approach the water, especially the Irtysh River that runs through Altay and empties into the Arctic Ocean.
Tall grass, forests and vast corn and sunflower fields abruptly thrive near its banks. It's a place that reminds us that water is the source of life, in every sense.
Koktokay means green wood in the Kazak language and blue river bend in Mongolian.
The road to Koktokay passes the Irtysh Grand Canyon and the bell-shaped Zhongshan Mountain.
People can hike, drive or cycle in a quiet valley where tall trees, flowers and grass shimmer along the springs.
It's said a cave in the area is scattered with precious stones.
Another major attraction is the Koktokay National Geopark, where the No 3 lobe of a special mine contains 86 minerals, including 26 that are rare, which equals a majority of rare earths on the planet.
The former Soviet Union sent the first miners to the No 3 lobe in the 1930s, after they found sand that contained rare metals in the Irtysh's downstream region and traced their origins to Koktokay.
After New China's founding in 1949, the two countries signed an agreement to co-mine the site that ended in 1955, when China started running it independently.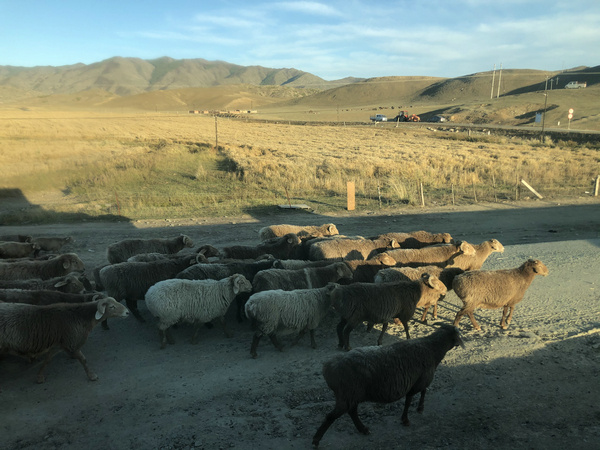 Rare metals from the mine were used to make China's first missile, atomic bomb, hydrogen bomb, nuclear-powered submarine and satellite.

The 300-meter-deep pit looks like an upside-down conical straw hat after decades of exploitation.
It measures 400 meters from east to west and 600 meters from north to south. A road wide enough for trucks coils from the surface to the bottom, where the Irtysh's water seeps in to form an emerald pond.
The nearby 3,600-square-meter Koktokay Geological Museum details the stories of the mine and the science of the minerals.
Fuyun is working to also employ nomadic culture to attract visitors and increase local incomes. The county's 102,000 people are from 29 ethnic groups. Most are Kazak and share a deep connection with horses.
Since 2013, the government has invested 45 million yuan to build a 100-hectare center devoted to ethnic Kazak horse culture. Fuyun's Kazak horse racing was listed as a national intangible cultural heritage form in 2014.
All of Fuyun's children learn three sports at school-skiing, horse riding and soccer.
Schools have hosted horse races at the cultural center every weekend since July 2019, with about 100 male and female students competing, cultural center manager Li Liangliang says.
"Local herders provide the horses, and all the riders are students. Kids usually start learning at age 3," he says.
Performances precede the competition, including girls' chases (women pursuing their crushes on horseback) and sheep grabbing (developed from when herdsmen needed to nab sheep on horseback when wolves approached).
Competition distances range from 3 to 15 km.
"Since 2015, we've hosted six big events here. A total of 80,000 people came, and 250,000 people watched online," Li Liangliang says.
People who still live in poverty can sell such foods as yogurt and cheese in 50 free stalls provided in the cultural center.
The payments to herders for using their horses, sales from food stalls and fees from tourists who pay to ride horses have increased annual incomes by an average of 4,000 yuan ($600).
Fuyun receive 5.9 million tourists last year.
"We expect 1.8 million this winter," says Gu Fang, head of Fuyun's culture, sports, radio, television and tourism bureau.
Fuyun hosts the Koktokay International Ski Resort, which opened on Oct 1, with 43 professional ski tracks. The 4.5-kilometer-long No 1 track tumbles 900 meters from the top.
And soon more snow will cover northern Xinjiang's skiing spots, replacing autumn's medley of vibrant hues with a monochrome of white that offers its own kind of colorful beauty.