Tourism input on the rise

The Beijing-based ShanHai Cultural and Tourism Group has invested in the building of tourist destinations in Hebei province's Xinglong county. (Photo:China Daily)
China's rapidly growing market in tourism has attracted investment from various fields, Yang Feiyue reports
Chinese tourists' travel enthusiasm has spurred businesses to step up input in tourism development.
The country's tourist numbers and tourism income both came out on top last year, followed by India, the US, Japan and France, the Beijing-based World Tourism Cities Federation reports.
China's domestic travel market received more than 5 billion visits, mostly by the Chinese, in 2017, up 12.8 percent as compared with the previous year and 69 percent with 2012, according to the former National Tourism Administration (now part of the Ministry of Culture and Tourism).
Chinese tourists paid 270 million visits abroad last year, up 3.7 percent year-on-year.
Tourism has contributed 9.13 trillion yuan ($1.42 trillion) to China's GDP, said the administration.
The country's focus on tourism has been demonstrated by the merging of the tourism and culture authorities in March.
"Seen from the long run, the Chinese market has strong competiveness, thanks to the culture and tourism integration," said chairman adviser of CITIC Ltd Zhao Jingwen at a global tourism investment summit that gathered more than 500 Chinese government organs, financial institutes and scenic spots in late May.
"We have seen a group of big enterprises rapidly making inroads in the tourism industry," Zhao said, adding that the top five real estate businesses and nine out of the top 10 internet giants have invested in tourism.
At the forum, the Beijing-based ShanHai Cultural and Tourism Group signed a strategic agreement with the Industrial and Commerical Bank of China and the Agriculture Bank of China, as well as multiple local governments and scenic spots to expand its presence in the tourism market.
The Beijing company has invested in a sport town in Hebei province's Xinglong county, a natural resort in Guizhou province's Anshun city, and a golf facility in Hainan province's Haikou city over the years, and plans to expand its tourism business, in addition to its real estate, financial and medical involvement.
"The full-on cooperation is to develop a sound industrial chain model featuring travel agency, scenic spot, hotel and transportation," says Wang Gaochao, chairman of the company.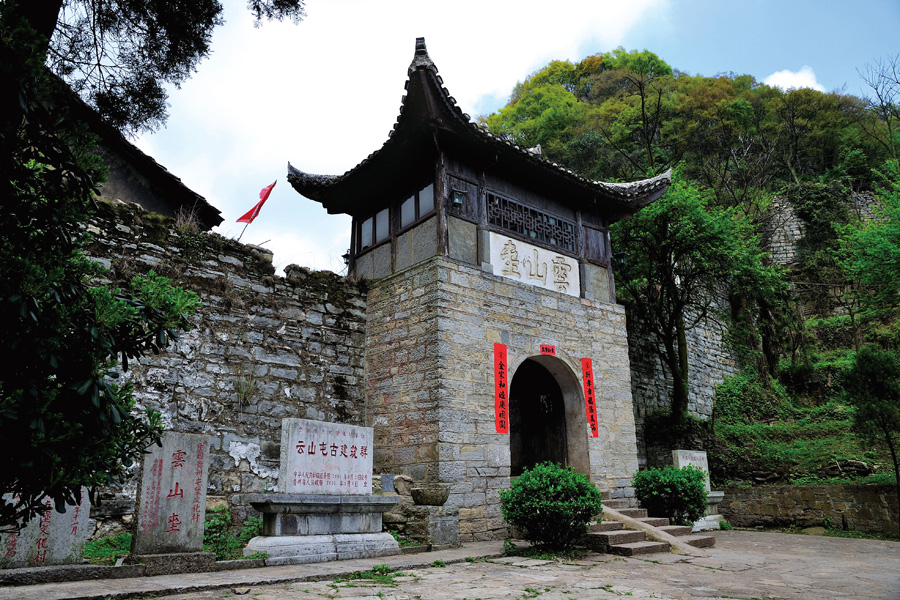 The Beijing-based ShanHai Cultural and Tourism Group has invested in the building of tourist destinations in Guizhou province's Anshun city. (Photo:China Daily)
Beijing ShanHai will invest in infrastrucutre, recreational equipment and hotels at various scenic spots and help to boost their publicity. The company also launched Mounsey, its travel agency, at the forum and announced a three-year plan to open 100 Mounsey subsidiaries and 10,000 brick-and-mortar retail shops to receive travelers directly across the country.
It would also make investments in 80 scenic spots, 100 hotels and 60 homestays.
The goal is to integrate tourism resources and offer one-stop services to tourists, Wang explains.
The Beijing company is just one of the many forces that have increased their presence in the tourism sector.
China's leading domestic theme park brand Fantawild Adventure would open a new theme park worth 12.8 billion yuan in Zhejiang province's Ningbo.
The property developer Evergrande Group has planned to invest 300 billion yuan to develop 15 Children's World theme parks across China.
The State-owned Overseas Chinese Town has signed a 238-billion-yuan deal to develop culture and tourism in Shaanxi province's capital Xi'an. Other real estate giants, such as the Hong Kong-listed Sunac and Country Garden, have all moved into the tourism development business.
In 2017, direct tourism investment broke 1.5 trillion yuan in China, and the country's 144 tourism investment funds were worth 800 billion yuan, according to the former National Tourism Administration.
More than 2,000 big-scale tourism projects are now under construction, involving more than 5 trillion yuan in investment. A total of 130 scenic spots have seen investment above 10 billion yuan each, and 45 above 20 billion yuan each.
Investment in culture and tourism towns, theme parks, ethnic and religion tourism, camping sites and those offering TV, film tracks and performance have been on the rise in recent years, supported by the country's favorable policies towards tourism investment, including those that help qualified tourism enterprises go public.
"Private capital has taken an exceptional part in overall tourism industry investment, basically surpassing 50 percent," says Li Yuebo, managing director with Industrial Securities.
Private companies have put more focus on medium and high-end travel experiences and invested more in lesiure at first-tier cities, while governments and State-owned companies have put money in tourism infrastructure in the central and western parts of the country, Li says.
Speaking about future tourism development prospects, Mounsey's president Wang Tao believes the sky's the limit.
"Tourism would be the next gold mine in the next dozens of years in China, after real estate and the internet," Wang says.
Sunac's revenue was 360 billion yuan last year, and it ranks merely the fourth in the real estate industry, while the combined business of the tourism giants Ctrip and China International Travel Service Ltd amount to just 60 billion yuan, Wang says.
"With real estate giants flocking to the tourism industry, think about the changes they would bring," he adds.
"The good show just began."