1.62 million Chinese tourists visit Cambodia in first 10 months, up 71.5 pct
PHNOM PENH, Dec. 12 (Xinhua) -- Cambodia attracted 1.62 million Chinese visitors during the first 10 months of 2018, up 71.5 percent over the same period last year, said a Cambodian Tourism Ministry's report released on Wednesday.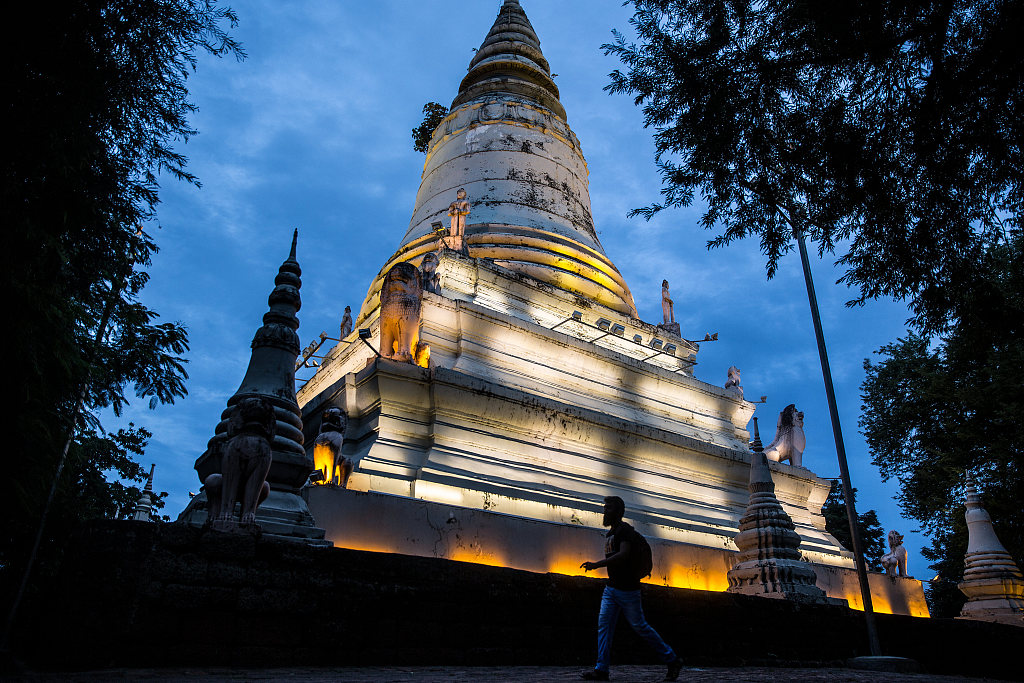 A pedestrian walks past the Wat Phnom temple illuminated at dusk in Phnom Penh, Cambodia on July 29, 2018. (Photo: VCG)
China is the largest source of foreign tourists to Cambodia, accounting for 33.7 percent of the total foreign visitors to the kingdom during the Jan.-Oct. period this year, the report said.
It said the Southeast Asian country received a total of 4.82 million international tourists during the first 10 months of this year, up 11.5 percent over the same period last year.
Cambodian Tourism Minister Thong Khon has attributed the remarkable rise in Chinese tourists to Cambodia to excellent ties between the two countries, Cambodia's attractive tourism sites and increasing direct flights between the two countries.
He predicted that Cambodia will receive up to 2.5 million Chinese tourists in 2020.
Cambodia is famous for three world heritage sites, namely the Angkor archeological park in northwestern Siem Reap province, the Preah Vihear temple in northwestern Preah Vihear province, and the Sambor Prei Kuk archeological site in central Kampong Thom province.
Besides, it has a pristine coastline stretching 450 km in four southwestern provinces of Koh Kong, Preah Sihanouk, Kampot and Kep.
Last year, Cambodia got 5.6 million foreign tourists including 1.21 million Chinese, earning gross revenue of $3.6 billion.