Tunisia's Djerba Island expects more int'l visitors in upcoming summer time
TUNIS, May 26 (Xinhua) -- In the north corner of Djerba, the largest island of North Africa, the Abrials from France parked their car on the coast facing the Mediterranean Sea.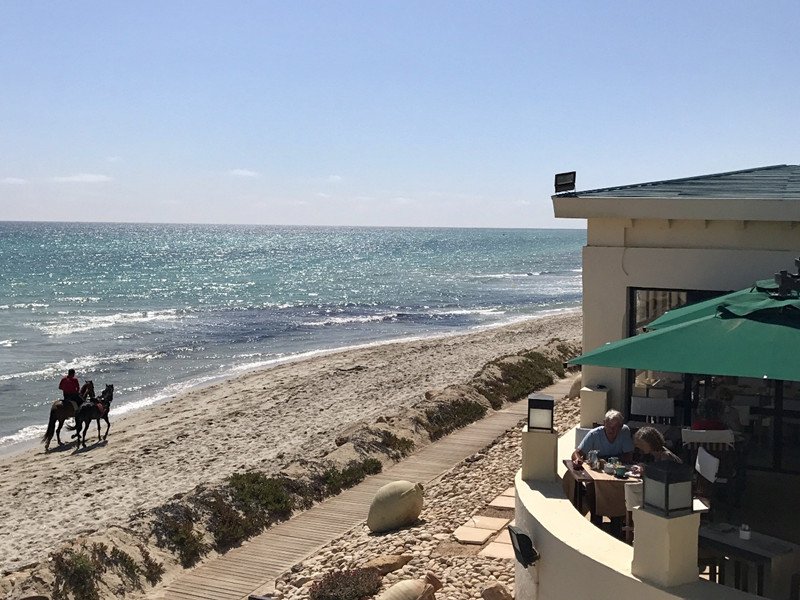 A photo of seaside in Djerba, Tunisia. (Photos: Xinhua)
For the Abrial family, the island is the "nomadic home."
Located off the southern coast of Tunisia, Djerba is described as a gemstone in the Mediterranean. The color of the sea varies from different layers of blue under the sun, which comes out for over 300 days every year.
In the rural areas, traditional white farmhouses and mosques present a quiet and peaceful view. With farms nearby, irrigated by small wells, some local residents live a self-sufficient life.
Jean-Charles Abrial, 73 years old, told Xinhua "since 2013, my wife and I came to Djerba together for holidays. Two times each year, one from mid April to late May, and the other from mid October to late November."
During their vacations in Djerba, the Abrials lived in their vehicle, which transformed into a small home with bed, simply-made shower and many daily necessities.
They also built a yard by palm branches and leaves, with sunshade, beach chairs, a reclining chair, novels, a guitar and baskets filled with vegetable and fruits.
"The sunbathing and calmness on this island are key attractions for us," said 72-year-old Eliane Abrial, while drying her hair after swimming.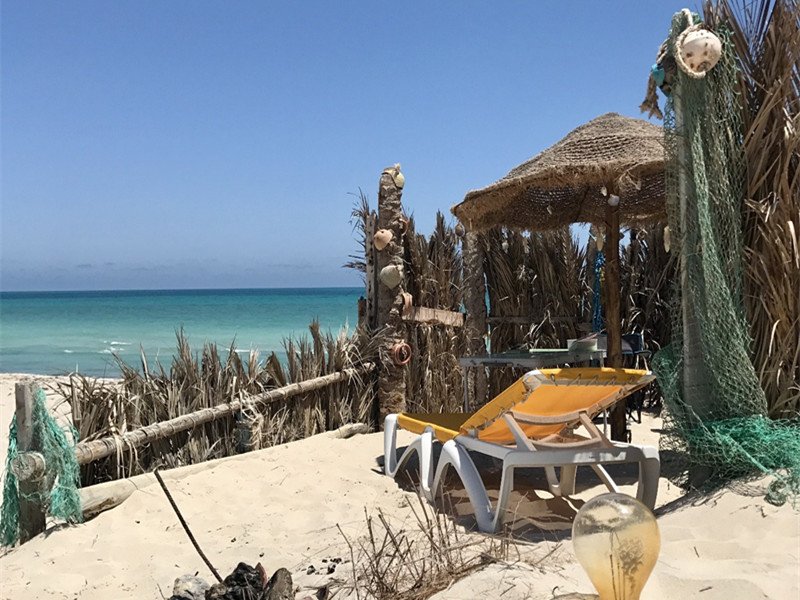 A yard made by palm branches and leaves at the seaside in Djerba, Tunisia.
The Abrials were not the only foreigners impressed by this beautiful island. Caroline Strobl, a 55-year-old Austrian middle school teacher, came to Djerba for holidays each year since 2010.
Dressed in Tunisian traditional-style outfit and wearing a cross necklace, Strobl told Xinhua she has rented a flat in the central souk on the island since 2016.
"Djerba is my favorite, and I came here four times each year," Caroline said. "The sandy beach, the sea view, the fishermen, the mosque and the sundown, it is really gorgeous here for me."
Besides the nature, Caroline also pointed out that Djerba was a harmonious island, where Muslims and Jews lived peacefully together.
"There is the famous Jewish pilgrimage of Ghriba and we also find a Catholic church on the island. People here kept peace in mind," she said.
Lying at the north point of the African continent, bordering the Mediterranean Sea, Tunisia is renowned for its rich tourism resources.
Tunisia's inbound tourists exceeded 2.1 million from January to May 10 this year, up 23.6 percent year on year, according to the latest data from Tunisian Ministry of Tourism.
Tourism revenues since the beginning of this year grew by 33.3 percent compared with the same period last year, reaching 772.7 million dinars (309.08 million U.S. dollars).
Tunisian Minister of Tourism Salma Elloumi hailed the increase as a "remarkable and significant progress," saying the current year will see the recovery of the country's tourism sector.
Tunisia witnessed a slump in its tourism since 2015 when the country was hit by three major terrorist attacks, which claimed the lives of more than 70 people, mostly foreign tourists and security forces.
Tourism in Tunisia started to revive in 2017, with the introduction of tighter security measures and return of visitors' confidence in security situation.
The VanWynsberghes from France came to Djerba for the first time in 2015 and they chose to visit here again this year.
Patrice VanWynsberghe, 46 years old, who worked in transport sector, said "we have confidence in the security here and it only takes a three-hour flight to reach such good sunshine, sandy beach and calm environment. It is great!"
Local residents were expecting more international visitors in June as it usually marks the beginning of the busy season for beach attractions.
Souhail Vitamine, manager of an open-air cafe located in the central souk, told Xinhua this year's business was much better than last year.
"Last year, there were only four waiters. This year we hired nine. We will hire more in the upcoming holiday," said Vitamine. "This year, more customers came, mainly from European countries. And we also start to receive Chinese tourists, a new market."
"We are quite optimistic about this year," said Vitamine as he served fresh juice, mint tea and shisha to one table surrounded by foreign tourists.
Many hotels and guesthouses in Djerba were almost fully booked for the peak summer time. Alessandra Campana, owner of a traditional guesthouse, said the reservation rate already reached 70 percent in late May.
"We have confidence for this year's tourism and I plan to renovate more new rooms," said Campana.
In a five-star hotel of an international chain, the occupancy rate also reached 50 percent in late May, a 100-percent growth compared with the same period last year.
Haider Mbarek, operation manager of the hotel, said he was optimistic about this season's business.
"Most customers were from Europe, but we also started to receive Asian tourists such as Chinese," said Mbarek. "China is a very promising market. We are getting more Chinese tourists now and expecting more."
Tunisia's tourism sector accounted for about 8 percent of the country's GDP. The North African country received more than 7 million tourists from all over the world last year, a year-on-year growth of over 20 percent.