Rail line linking tourist hot spots to open next year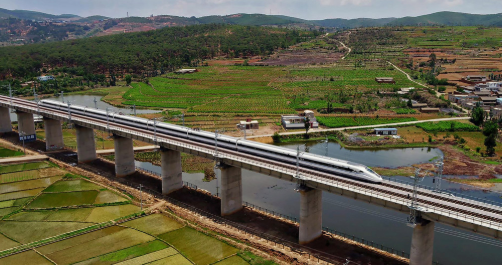 A railway in Yunnan Province on February 24, 2019. (Photo: IC)
A rail route linking tourist hot spots Lijiang and Shangri-La in Yunnan Province is expected to be opened at the end of next year, said the China Railway Corporation on Monday.
The 139-kilometer, Lijiang-Shangri-La line will be linked with Yunnan capital, Kunming, and Sichuan capital, Chengdu, via the Kunming-Dali rail line, which will allow passengers make round trips between Kunming and Shangri-La within one day.
The new line will serve as a key route for tourists, and boost visitor numbers as there are many scenic spots, including Yulong Snow Mountain, Tiger Leaping Gorge and Haba Snow Mountain, along it, said the corporation.
It's of great importance for the further development of the tourism industry in the Northwestern Yunnan province, said the corporation.
The route will feature 13 stations, and complex terrain along the route has called for the construction of 32 bridges and 20 tunnels.