Qingming: Finding fragrance, greenery and time-transcending joy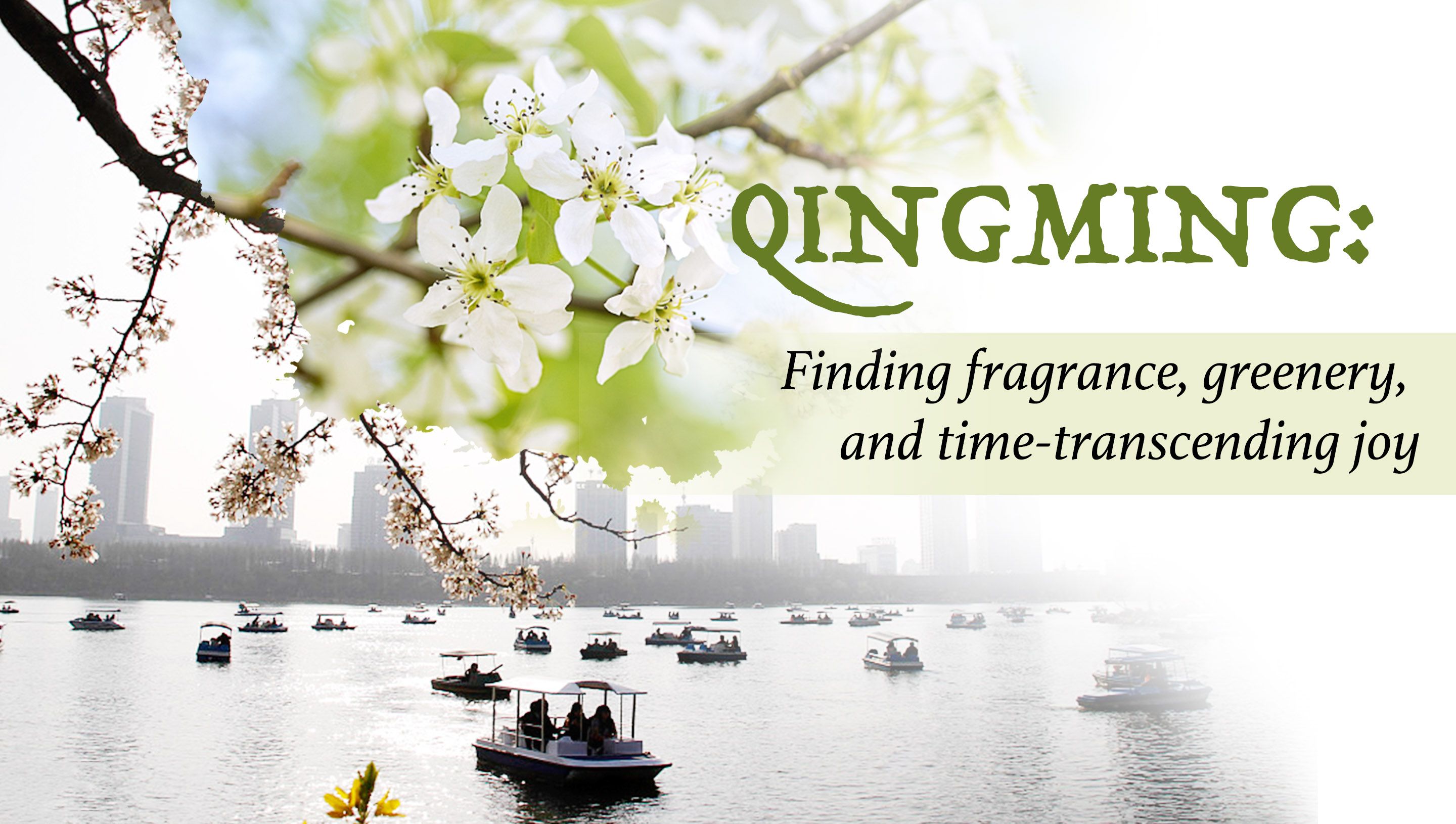 (Photo: CGTN)
The Qingming Festival has long existed in Chinese history, dating back to more than 2,000 years. Generations of poets and lyricists have embraced the chance to venture out in the spring and create artwork inspired by the festival and the scenery. Below is one of the poems in recorded Chinese literature history about a one-day trip during the Qingming Festival.
I traced the poem's lyrics and selected a few places where you might see what he saw. Away from where he wrote the poem, Hangzhou, I'm eager to know where else to get lost in the spring.
Where are the pear blossoms?
We collected three destinations for you to enjoy the fragrance and greenery, including both natural and cultural scenic spots.
Jinchuan Pear Blossom
Jinchuan County is located in the northwest of Sichuan Province, southwest China. It is under the administration of the Ngawa Tibetan and Qiang Autonomous Prefecture.
Jinjiang Village, Jinping Village, Daping Village, Danzhamu Village and Shan'gengzi Village in Sha'er Township are the best areas for pear flower viewing. If you drive along No.211 Provincial Highway, all of the villages have access to the pear blossom park.
Travel Tips
The shuttle bus at Jinchuan County's bus station will take you directly to the Pear Blossom Park. Entrance is free.
Liucun Pear Blossom
Located in Zaozhuang, a prefecture-level city in east China's Shandong Province, the Liucun Pear Blossom Garden covers about 5,000 acres of land. The park dates back to the year of 1370 when it was first constructed in the Ming Dynasty. It now not only exhibits pear blossoms, but also mass produces pears every year.
Travel Tips
Ticket price per person is 30 yuan (about $4.47).
Buses that start from Zaozhuang City and head to Bayikuang, Chaili, or Jiangzhuang, all stop at the park along their routes.
The Forbidden City
The Forbidden City, once the office and residential complex for Chinese emperors and their families, had been China's ceremonial and political center for almost 500 years. It is now preserved and known as the Palace Museum. With its rich history and increasingly diverse exhibitions, it has always been one of the top choices for tourists in Beijing.
Travel Tips
The Palace Museum is located on No.4 Jingshan Front Street, Dongcheng District, Beijing.
Take Metro Line 1, and get off at either Tiananmen East or Tiananmen West Station.
Where are the lakes?
Boating in the lake in the warm spring air, or strolling along the lake's rim are both great leisurely activities to enjoy with your loved ones. Below are three lakes where you might find the same joy poets like Wu Weixin once found hundreds of years ago.
West Lake and Su Causeway
West Lake is a freshwater lake divided into five parts by three causeways, namely the Su, Bai and Yanggong causeways. It became a UNESCO World Heritage Site in 2011. The Su Causeway has a length of about 2.8 km. Its construction was initiated by the famous Chinese poet, Su Dongpo, hence its name.
West Lake is located on Nanshan Road, Xihu District, Hangzhou, Zhejiang Province.
Eight bus lines, namely buses Y2 to Y9, as well as two ring lines, No. 51 and No. 52, can take you to most tourist spots around West Lake. Y2 and Y9 are equipped with tour guides.
Xuanwu Lake
There are five islands in Xuanwu Lake, interconnected by arched bridges. Within the park, there are scenic spots including temples, pagodas,gardens and teahouses. Xuanwu Lake Park covers an area of 472 hectares, and is the largest imperial lake garden in China's history. It is a natural escape in downtown Nanjing. You can see Nanjing's skycrapers from the park, but you don't feel like you are still in the city.
Xuanwu Lake is west of the famous Zijin Mountain in Xuanwu District, Nanjing, Jiangsu Province.
Take Metro Line 1 and get off at Xuanwumen Station.
Kunming Lake at the Summer Palace
Kunming Lake is at the center of the Summer Palace in Beijing, and is a key landscape of the park, spanning an area of 2.2 square kilometers. Kunming Lake is inspired by West Lake in terms of construction. For example, its West Causeway is inspired by West Lake's famous Su Causeway, laying diagonal in the southern part of Kunming Lake.
Travel Tips
The Summer Palace is located on Xinjiangongmen Street, Haidian District, Beijing.
Take Metro Line Daxing and get off at Beigongmen Station, or take Metro Line Xijiao and get off at the west gate of the Summer Palace.