Air tickets, homestays sold out for May Day holiday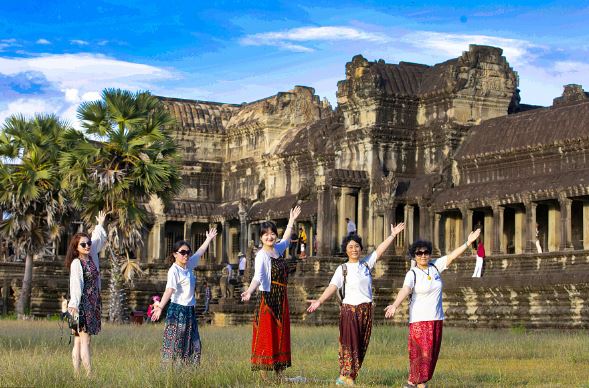 Chinese tourists post at Angkor Wat in Siem Reap, Cambodia on Dec 9, 2018. (Photo: VCG)
A travel rush is expected for the upcoming May Day holiday, as air tickets and high-speed railway tickets on multiple routes were sold out, while homestay hotels at destinations including Beijing and Shanghai were fully booked.
While only one week away, the May Day holiday this year is extended to four days – one day more than last year – and will see a travel craze comparable to that typically seen during China's Spring Festival, a traditional holiday for family reunion.
According to Qunar, one of China's largest online travel agencies, quite a few people chose to take a few days off before or after the May 1 to 4 holiday, so that they can enjoy a journey lasting upwards to nine days.
The travel rush is expected to come as early as April 27, and will reach a climax on April 29 and 30.
To be specific, economy class tickets for flights, such as Beijing to Tokyo or Osaka on April 30 and May 1, and Shanghai to Dubai on May 1, have been sold out, Qunar statistics showed.
For domestic trips, travelers have to pay full fare for economy class tickets for flights linking Beijing with Kunming, Xi'an and Hangzhou; Shanghai with Chongqing, Sanya and Haikou; and Chengdu with Shenzhen, Hangzhou and Xiamen.
High-speed railway tickets to popular destinations, including Huangshan, Wuhan, Chongqing and Dalian, also are gone.
Qunar said that the most popular overseas destinations for the May Day holiday include Singapore, Seoul, Taipei, Bali, Osaka, Kuala Lumpur, Bangkok, Tokyo and Dubai, depending on the length of the individual traveler's holiday.
Ctrip, the country's biggest online travel agency and a shareholder in Qunar, said earlier that Chinese residents will make an estimated 160 million trips during the upcoming May Day holiday.
The figure is about 50 percent higher than that for Tomb-sweeping holiday, which was from April 5 to 7.