China sees growing parent-child tourism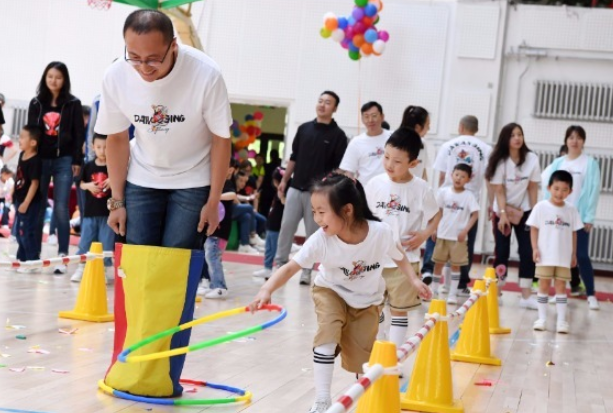 China is seeing a growing market of parent-child tours. (Photo: Xinhua)
For this year's Children's Day, which falls on Saturday, Deng Mo and his wife drove their son to the city of Suzhou, about 100 km away from Shanghai where the family live.
Many parents similarly spent the weekend with their children, according to Shanghai-based online agency Ctrip. The platform said bookings for parent-child hotels increased nearly 60 percent year on year this weekend, with Sanya, Shanghai, Hangzhou and Suzhou among the most popular destinations.
Over 70 percent of parent-child travelers chose short-distance tours, and more than 80 percent chose high-speed railways or self-driving tours.
China is seeing a growing market of parent-child tours, which account for up to 60 percent of the overall domestic and overseas travels, according to a survey conducted by the China Tourism Academy.
More than 80 percent of respondents in the survey believe parent-child tours can bring joy for a whole family, and 96 percent want to go on such tours.
Deng has taken his son to Japan and Thailand before.
"It was not easy to take a three-year-old person for travels," Deng said. "He had a lot of baggages, more than we did."
During their vacation in Japan, for example, his son fell sick, and the parents had to stay in the hotel for a whole day.
But even so, Deng hopes that such tours will help his child broaden his horizon.
Many parents regard such tours as a way of education. According to Shanghai-based online travel agency Lvmama, bookings for tours involving museums in the first four months of 2019 increased 45 percent year on year.
Shanghai resident Ji Hongjuan likes taking her 12-year-old daughter Wen Lan to China's famous historical sites and visiting museums. In the past few years, they have visited places such as the Palace Museum, Shaanxi History Museum and Nanjing Museum.
"I usually ask my daughter to be my guide," Ji said. "She searches for information about where we will visit and take me there, which I think is a great way to cultivate her curiosity for learning."
Ctrip said that for the upcoming Dragon Boat Festival, searches for destinations for parent-child travels had increased 200 percent, and Shanghai, Shenzhen, Guangzhou and Hangzhou were wildly popular. According to Lvmama, historical and traditional activities during the festival are favored by parents.
Even overseas travel agencies have caught wind of this huge market. Costa Venezia, the first ship designed by Costa Cruises, the Italian brand of Carnival Corporation and built specially for Chinese guests, has entered the Chinese market. Many facilities and activities were designed especially for parent-child visitors to meet the growing need in Chinese market.
The family tour market will continue to grow during the summer vacation from July to August, according to Ctrip and Lvmama.
Ji Hongjuan plans to take her daughter Wen Lan to China's southwestern Sichuan Province, where they will visit the Chengdu Du Fu Thatched Cottage Museum and the Chengdu Wuhou Shrine, as her daughter loves Chinese ancient poetry.
Dai Bin, head of the China Tourism Academy, said there was more potential to be tapped in the market.
"Our surveys show that many parents are complaining about destinations being too crowded during the public holidays and more than 40 percent said they are looking for more travel products with high quality," he said.