Three best Chinese foodie towns that will make your trip linger on your taste buds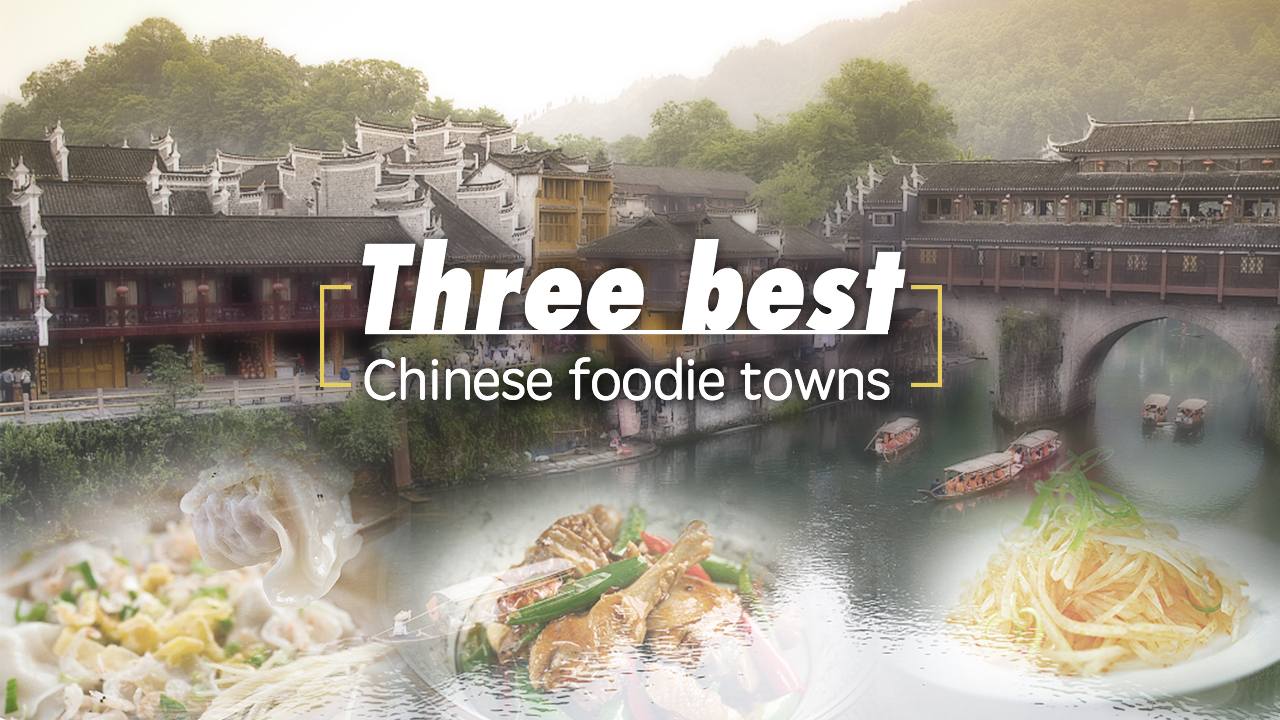 (Photo: CGTN)
Although today travelers could try unique dishes from China's major metropolises, it's outside these cities where authentic Chinese cuisines await the true foodies. CGTN has selected three best foodie towns in China that will make your trip linger on your taste buds.
Shanghai - Zhujiajiao Ancient Town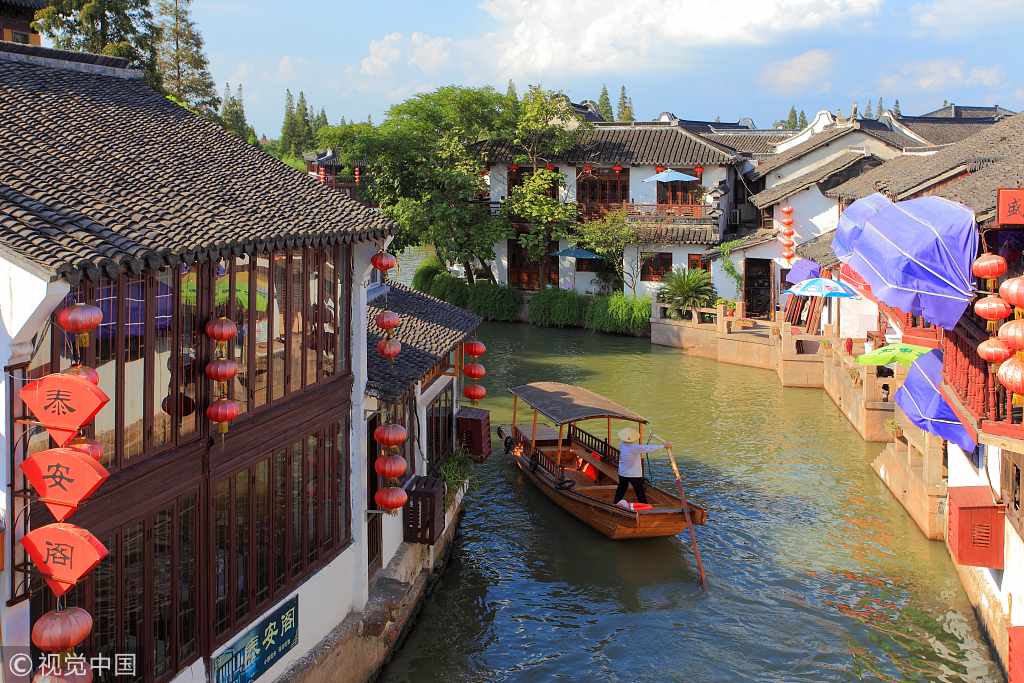 View of Zhujiajiao Ancient Town in Shanghai. (Photo: VCG)
Zhujiajiao Ancient Town, also known as Zhujiajiao Water Town, is located 48 kilometers southwest of downtown Shanghai. Dubbed the Shanghai's Venice, this town is the best-preserved ancient town in Shanghai. In addition to the stunning views, this town is also famed for its local traditional dishes.

Braised Pig's Knuckle in Brown Sauce, known in Chinese as "Zou You Ti Bang", is a must-try dish in the town. Locals always recommend this dish for travelers as it tastes delicious and is full of nutrition.
Another well-known dish is the "grandma rice dumplings," or "apo zong" in Mandarin. A typical apo zong is stuffed with pork and rice, or red-bean paste with rice, and the aroma of the straw in its zongzi is what locals' adore. With its fame and popularity, apo zong has gone beyond a grassroots specialty and turned into a food industry.
Apart from the tasty food, this water town is full of leisure and tranquility where people who need time-out from the hustle and bustle of the urban areas could find it easy to find inner peace.
Hunan - Fenghuang Ancient Town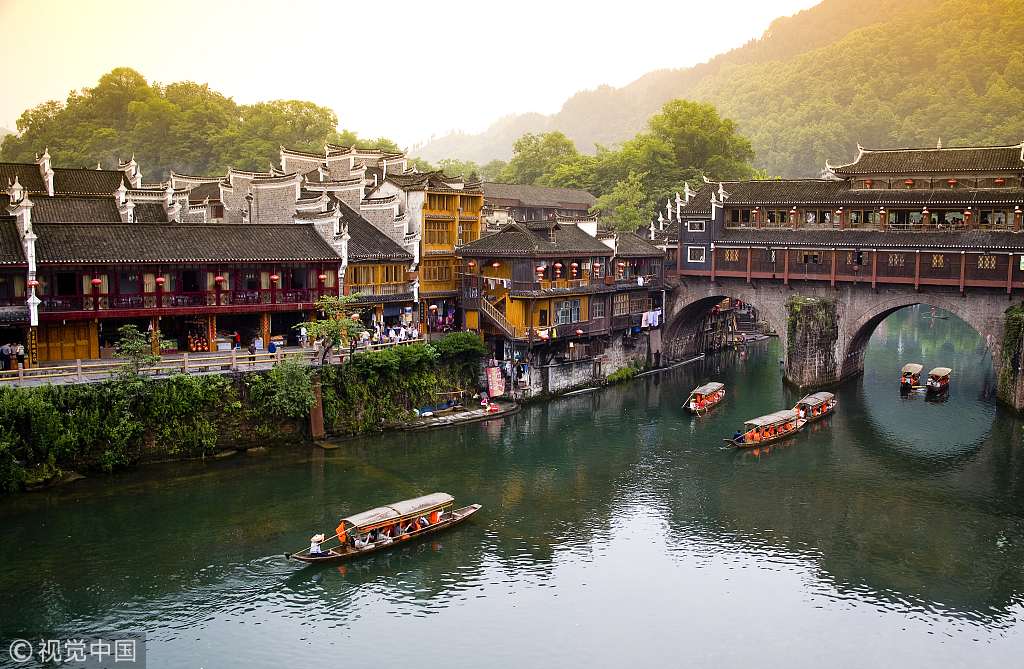 View of Fenghuang Ancient Town in Hunan. (Photo:VCG)
Be it the tasty food, the boats, or the culture of tenderness – Fenghuang Ancient Town, also known as Phoenix Ancient Town, offers visitors an unforgettable journey of the taste buds.

When you travel to Fenghuang Ancient Town for the first time, do not miss the tasty Xiangxi Bandit Duck. When taking about Xiangxi Bandit Duck, many travelers may be curious about the name of this cuisine. But it has a unique flavor that I bet you would never regret for it once you have a bite of this dish. It tastes a little bit salty and spicy, and the ingredients are a fresh duck, konjak, tofu, cooking wine, spicy source, ginger and onion.
Strolling around the Phoenix Ancient Town, visitors could also feel the charm of the town through its traditional street food. For born-and-bred locals, the vinegar radish is the most unique dish that can be seen in the glass jar from almost every snack bar in the town. Usually, the vinegar radish goes well with red wine which could be noted as one of the best appetizers for travelers.
Guangdong - Shawan Ancient Town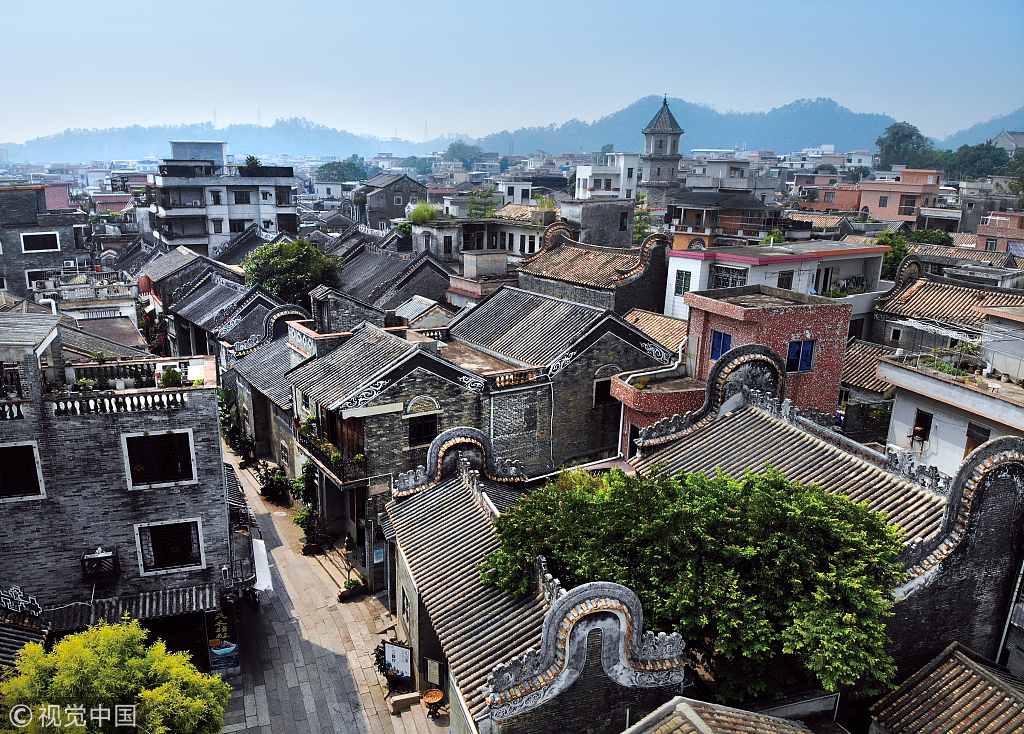 Aerial view of Shawan Ancient Town in Guangdong. (Photo: VCG)
Located in Panyu Distrcit of Guangzhou City, Shawan is a land worth exploring. With many old stories behind, this ancient town built in Southern Song Dynasty (1127-1279) has witnessed a long history of Panyu for over 800 years. It features not only rich history and culture but is also known for many traditional local delicacies.

Crossing over one alley to another, travelers will soon be soaked up in the nostalgic atmosphere. On An'ning Street, a dessert shop called "Shawan Milk Cow Queen" is very popular among tourists. The double cream custard and ginger milk pudding are highly recommended by the shop owner. Try the ginger milk to start your first taste adventure in Shawan which will definitely leave a great impression on you!
Sure, the tasty food in Shawan Ancient Town is more than just dessert, it has more to offer. People always say that the authentic steamed vermicelli roll is from Guangzhou's Xiguan, while the traditional Canton wonton is from Shawan Town. Wontons are similar to dumplings and are usually served in soup.