Millions on the move during Labor Day holiday in Shanghai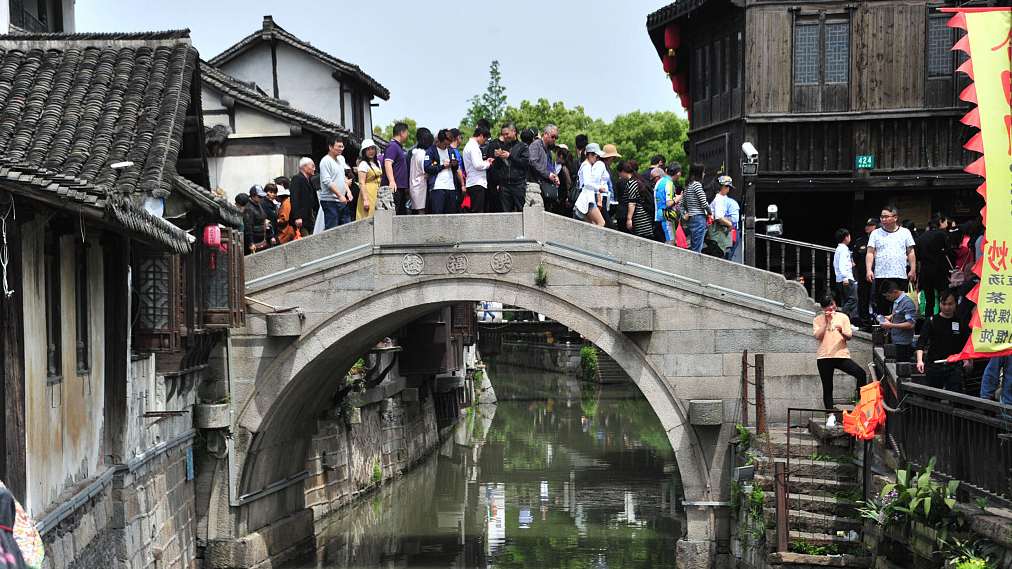 Visitors pack Watertown in Shanghai. (Photo: VCG)
Shanghai's tourist spots were packed with visitors on the second day of the Labor Day holiday on Thursday. The Disney Resort and the Lujiazui area in Pudong were among the most popular spots.
About 180,000 people had visited the Lujiazui area by late Thursday afternoon, while the number of visitors to attractions in and around the Disney Resort was about 78,000. The Shanghai Wild Animal Park and the Shanghai Haichang Ocean Park in Pudong were also popular spots, as well as the Shanghai Science and Technology Museum and the Shanghai Natural History Museum.
The Shanghai Museum, Shanghai Natural Museum and Shanghai Science and Technology Museum have all seen visitor flows exceeding 80 percent of their historical highs.
The Pudong New Area police said they made emergency security and transport plans for the Lujiazui area during the holiday, including adjusting the location of taxi-hailing spots and sightseeing bus stops to assure a smoother traffic flow.
The Zhujiajiao Watertown in Qingpu District received a record high of 83,000 tourists on Thursday. Visitors had to stand in long queues before entering the town in the morning. The local authority restricted entry temporarily for safety.
The Shanghai Great World, known as Dashijie, was also a popular choice for those who wanted to stay downtown. Visitors got to enjoy folk performances including Yueju Opera, Kunqu Opera and vaudeville.
Shanghai offers 70 cultural and recreational activities for the holiday, including urban sightseeing, folk shows, natural scenery and countryside tourism.
Crowding has become a problem in all tourist spots and transport hubs around the country. Pictures of numerous tourists packing out the Great Wall in Beijing have been widely spread on social media. All river bank lawns at the West Lake area in Hangzhou, capital of Zhejiang Province, were packed with visitors and families gathering for picnics.
Ctrip, China's largest online travel agency, estimated that about 160 million trips will be made during the holiday.
Railway trips hit a record high on Wednesday, the first day of the four-day May Day holiday, the national railway operator said. A daily record of 17.24 million railway passenger trips was made on Wednesday, 44.3 percent higher than the same day last year, according to the China Railway Corporation, which added a total of 758 trains to handle the passenger rush on the day.
Thursday was expected to see 11.94 million railway passenger trips and 530 trains added. Railway authorities have taken various measures nationwide to ensure safe and orderly trips.