Have a safe trip-travel insurance surges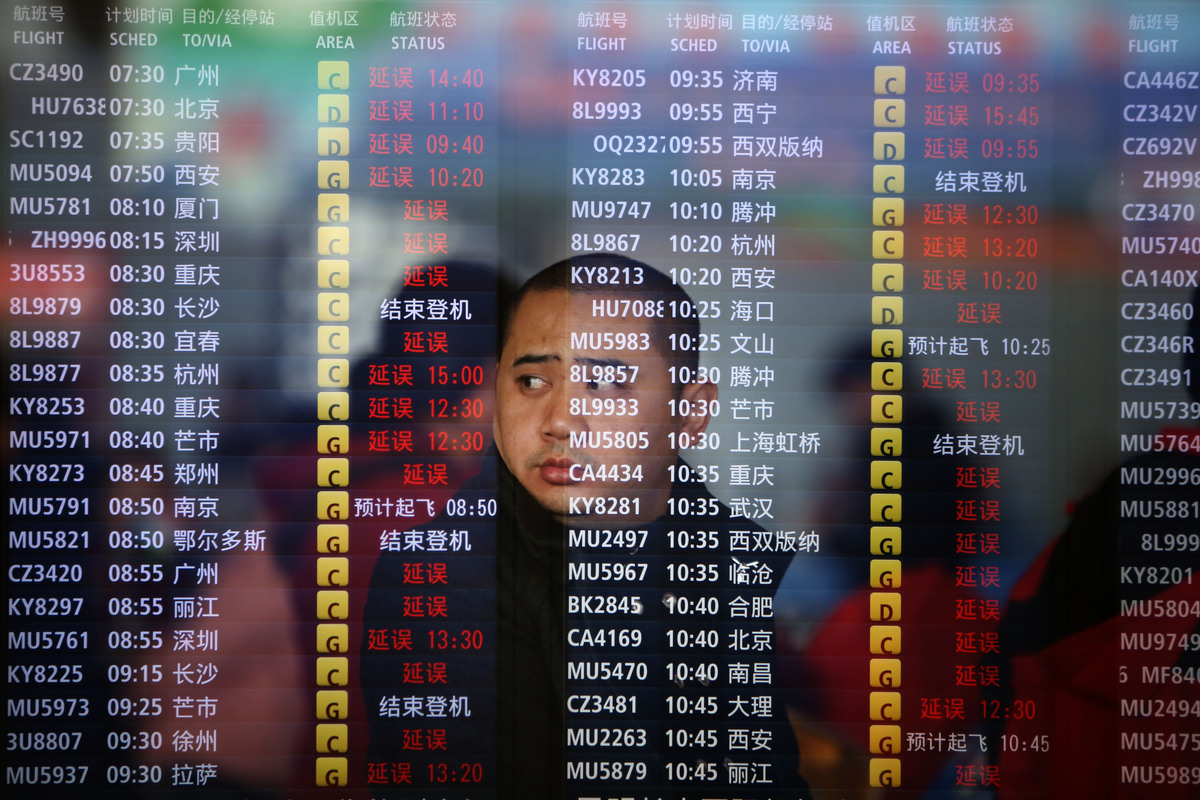 With worry written large on his face, a holiday flier digests information of flights delayed or canceled due to fog at the departure hall of Kunming Changshui International Airport. (Photo: China Daily)

Popularity due to exotic destinations and more expensive items in suitcases

Nobody likes to think of the worst happening on their holiday-getting sick, bad weather, accidents or robberies. But thanks to potentially eye-watering medical bills, suitcases packed with ever-more expensive gadgets, and a boom in the number of seniors jetting away, Chinese tourists are protecting themselves with more travel insurance than ever before.
In 2018, the number of Chinese travelers who bought travel accident insurance for outbound trips jumped nearly 20 percent year-on-year, according to a report by Ctrip.com International Ltd, China's largest online travel agency by revenue.
In terms of payouts, 46 percent of money went to compensating travel schedule changes, 35 percent was for travel delays, and 15 percent for medical care costs, said Ctrip.
The report found overseas trips to be more risky than domestic trips. Some long-distance overseas destinations, such as the United States, Canada, New Zealand, as well as tropical islands, saw higher actual risk probabilities.
Tourists often experienced robberies, tour booking frauds, traffic accidents, and yachting mishaps, especially in some countries such as Thailand, which are notorious for such incidents, said Huize, China's largest third-party insurance platform.
Chile, France and Spain are also destinations that frequently see robbery cases, and travelers in the United States have reported cases of harm to property and personal safety incidents, Huize found.
Flight delays, the most frequent kind of unexpected travel changes, happened most often in Guangzhou of Guangdong province, Xiamen of Fujian province, and Hainan province in China. While among foreign countries, Indonesia (Bali Island), the Maldives and the Philippines top the list.
Travelers appear to have realized their dream island holiday might not go to plan. The number of Chinese who bought island insurance online surged significantly last year, said Ctrip.
"Tropical islands usually face frequent flight delays, as they are easily impacted by typhoons and rainstorms, and some chartered flights on islands often change schedules. Also, flying from China to some further overseas destinations, such as the United States, often requires transferring flights. Schedule changes on connecting flights can also result in delays," said Huang Qing, director of travel insurance business at Ctrip.
For travelers, that can often mean the double disappointment of no holiday and a large bill.
"Many carriers don't compensate for flight delays or cancellations that are caused by objective factors like bad weather. Some travelers miss their transfer flights and have to buy new tickets or book hotels by themselves, but travel insurance can offer such compensation," Huang said.
Europe had the highest proportion of Chinese tourists with travel insurance, helped by the fact that travelers need insurance when applying for a Schengen Visa. The region is followed by Sri Lanka, New Zealand and Indonesia, according to Ctrip.
In China, areas with high altitudes, relatively worse transportation and difficult environmental conditions, such as Qinghai province, Shanxi province, and Inner Mongolia autonomous region, saw higher proportion of travelers purchasing insurance.
One prime reason is cost. In some countries, emergency medical care services for uncovered patients can be as much 30 times more expensive than China, with the United States, Canada, Europe, Japan, Australia and New Zealand all noted for their high fees.
"Developed countries usually boast high medical care costs. Even for a minor sickness or fever, it can still cost a significant amount of money. So we suggest that travelers heading to those countries consider buying insurance and filing their claims promptly, thus avoiding their compensation being refused for delayed reporting," Huang said.
Liu Yang, a 26-year-old office employee in Beijing, said she had learnt this the hard way. About five years ago, when traveling in the US, she was bitten by a squirrel in Washington DC. The rabies shots and several courses of treatment cost her around $10,000.
"It was a painful lesson for me. Since then, I always buy comprehensive travel accident insurance online before I leave. It's not very expensive to buy insurance, but I can set my mind at ease, just in case anything unexpected happens," she said.
Meanwhile, the increase of China's senior population is also being felt in the travel market. Not only are older people traveling more, they are claiming more after mishaps.
Trips and falls make up the largest proportion of medical claims. More than half of travelers who fall are middle-aged and senior people, with hotel bathrooms, queues, and mountain paths being the most likely places where mishaps happen.
One was 56-year-old Zhu, who fell in her hotel bathroom in Rome, Italy. She received 67,000 yuan compensation for medical costs.
The digital boom is also being seen. More than 50 percent of travelers now complete the compensation process by themselves on their smartphones.