Trace the footsteps of history on Xuzhou-Lanzhou high-speed railway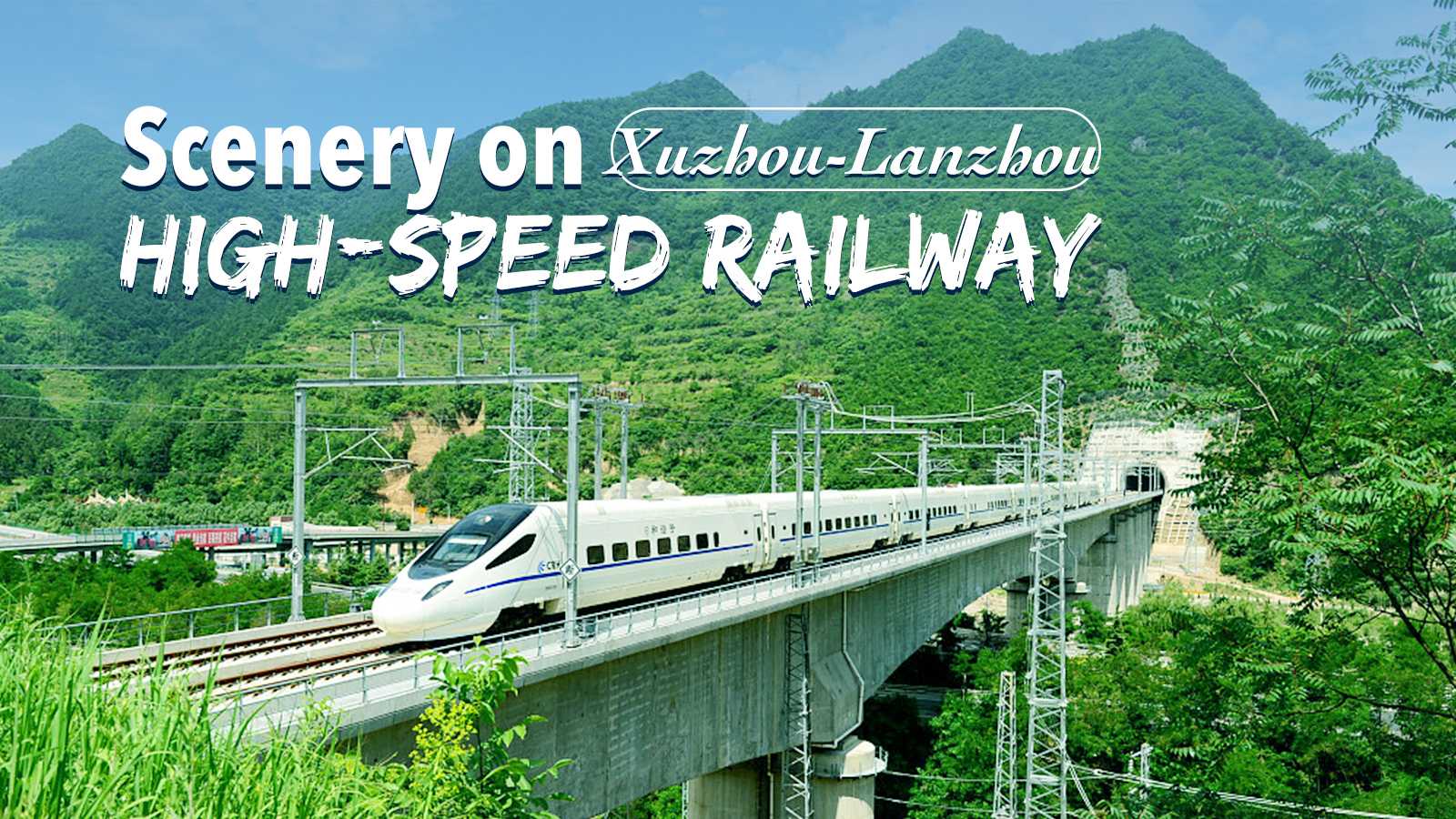 (Photo: VCG)
Qingming Festival, or Tomb-Sweeping Day, is an occasion to remember deceased family members and ancestors. With the three-day holiday right around the corner, this episode of "Scenery on China's High-Speed Rail" traces the footsteps of ancient Chinese history along the Xuzhou-Lanzhou high-speed railway.
Stretching a total of 1,434 kilometers, the rail line spans five provinces from east to northwest China that are known for historic sites, including Jiangsu, Anhui, Henan, Shaanxi and Gansu.
The whole line was officially put into service on July 9, 2017, when the section from Baoji in Shaanxi Province to Lanzhou in Gansu Province started operation. Today it takes around seven hours to complete the whole journey that used to take few days.
We've picked three must-visit stops where you can get off the train and explore the ancient charm of China. It'll give you some clues about your next destination during the upcoming holiday.
Kaifeng North Railway Station
About one and a half hours from the Xuzhou East Railway Station, the bullet train takes you to the city of Kaifeng, located at the plain area of Henan Province. With a history of 2,700 years, it is noted for well-preserved cultural relics and historic sites.
Qingming Riverside Landscape Garden is one of the top attractions in Kaifeng that will take you back to the Song Dynasty (960-1279).
A section of "Qingming Shanghe Tu" or "Along the River During the Qingming Festival" drawn by Zhang Zeduan in the Northern Song Dynasty (960-1127). /VCG Photo
You can have a glimpse of some of the ancient human activities during that period. In addition, there is a food street inside the park where you can have a go at different kinds of local snacks in the city.
Luoyang Longmen Railway Station
After another hour on the train, we arrive at Luoyang in western Henan Province. Known as the cradle of Chinese civilization, it is said that it once served as the capital city of 13 ancient dynasties starting from the Xia Dynasty (2070-1600 BC).
Visitors are mostly drawn to the Longmen Grottoes and Shaolin Temple. If you're intrigued by Chinese kung fu, check out the recently released VR video by CGTN: Exclusive 360-degree VR: Discover the Shaolin way of life.
Listed as a UNESCO World Heritage Site, the Longmen Grottoes represent the high point of Chinese stone carving and will definitely blow your mind. It is home to more than 2,300 caves and niches that were delicately carved into the limestone cliffs of over one kilometer long.
There are around 110,000 Buddhist stone statues and more than 2,800 inscriptions carved on the stones, as well as plenty of historical materials regarding religion, art, calligraphy, architecture and more.
Xi'an North Railway Station
Xi'an, the capital city of Shaanxi Province, is not only one of the most-visited Chinese cities, but also one of best witnesses of China's long history and time-honored cultures.
The city invites visitors from all over the world to dive into the richness and distinctiveness of its cultural heritage. Check out the city's top destinations – Terracotta Army, Giant Wild Goose Pagoda, Ancient City Wall and more.