Heavy snowfall creates spectacular scenery in E, NE China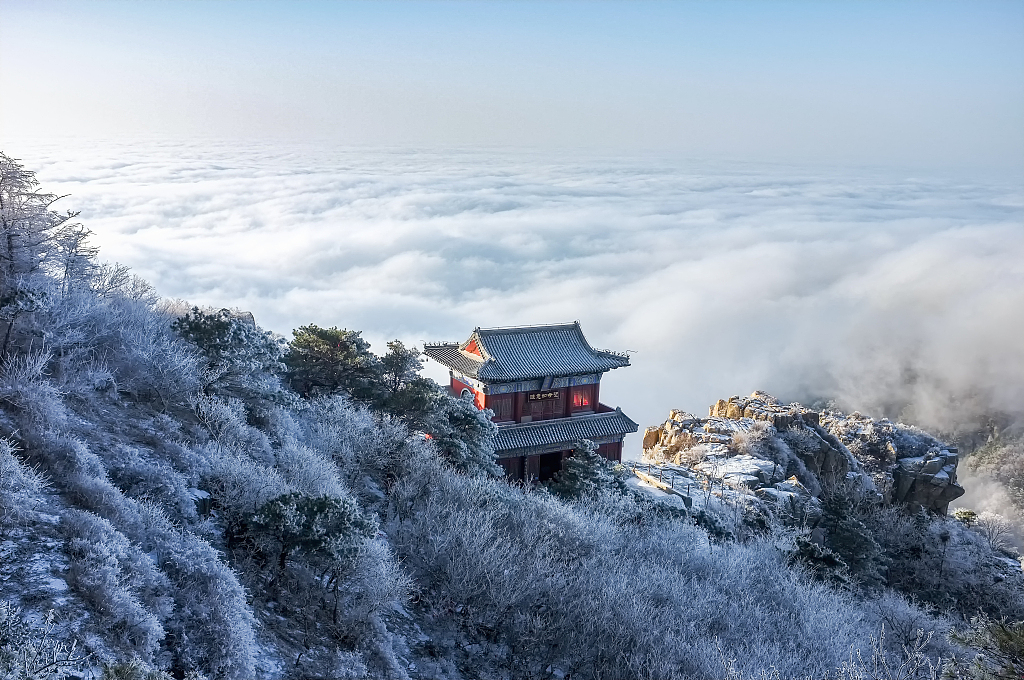 Mt. Taishan after the snow. (Photo: CGTN)
Heavy snowfall since Friday has created spectacular views in eastern and northeastern China, bringing people a feeling of ease and pleasure during the hard time of fighting the COVID-19.
Large-scale snowfall occurred in Benxi City, northeast China's Liaoning Province from Friday night to Saturday. Although the snowfall influenced local traffic, it also granted people a beautiful winter scenery.
The snow has covered parks, squares, river banks and mountains, making the city an ice and snow wonderland. A river flowing through the city has been partly covered by snow, and the wild ducks swimming in the unfrozen parts also contributed to the winter scenery with vivid contrast.
Snow also started falling on Mt. Taishan in east China's Shandong Province on Friday afternoon, and the temperature on the top of the mountain dropped to minus 13 degrees Celsius on Saturday. After the snowfall, a unique scenery combining rime and snow was formed, dressing ancient pines and cypresses in silver.
Mt. Taishan is a world natural and cultural heritage. It is also one of China's five sacred mountains. In ancient China, some emperors used to choose it for offering sacrifices to heaven on top of the mountain. The tallest peak, the Jade Emperor Peak, measures 1,545 meters in height.