Personnel flow at entry & exit points in China reaches 500,000 per day, up by 48%: immigration authorities
Global Times
1673964482000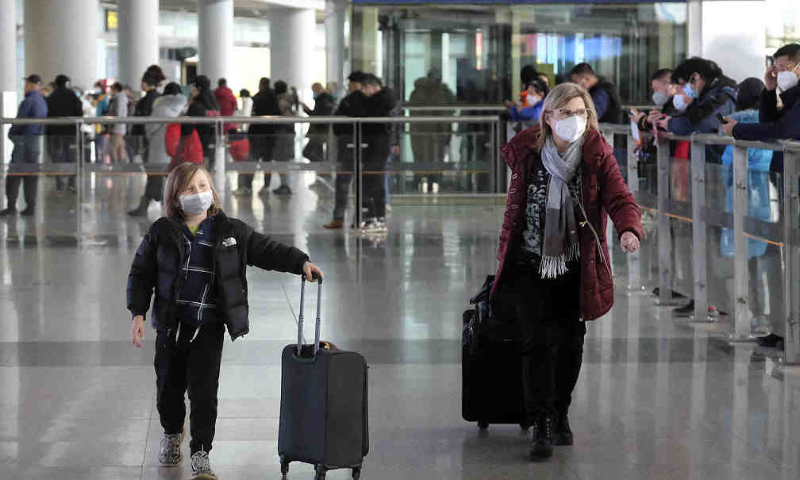 Since China downgraded its COVID-19 management on January 8, the daily average of people passing through entrance and exit points has reached 501,000, up by over 48 percent than before the announcement of COVID policy shift, according to official data on Tuesday.
Lin Yongsheng, spokesperson for the National Immigration Administration, said at a press conference on Tuesday that the current daily average amount is about a quarter of pre-epidemic level.
Opening more than 3,200 windows for immigration document application and 53 ports nationwide, authorities have received an average of 341,000 entry and exit documents per day, up 130 percent before the policy announcement, reaching more than half of pre-epidemic level, the spokesperson said.
On average, it will take less than 30 minutes at entry and exit points at major ports at Beijing, Shanghai, Guangzhou, Shenzhen and Zhuhai in South China's Guangdong Province, and Manzhouli of North China's Inner Mongolia Autonomous Region, Lin noted.
"With China's COVID management entering a new phase, the National Immigration Administration has rolled out optimized measures to actively promote personnel exchanges between China and overseas," Lin said.
"It is expected that with the orderly resumption of immigration processing works and passenger clearance at various ports, the number of permits issued by public security authorities and personnel flow will continue to grow, gradually returning to pre-epidemic levels," Lin noted.
According to the latest data, a total of about 65 million residents from the Chinese mainland entered and exited the country in 2022, about 10 million less than in 2021.
In addition, some 47 million residents from China's Hong Kong and Macao regions and 4.5 million foreign nationals have entered and exited the country in 2022, mounting to a total of 116 million persons entering and exiting China, showing a 12 million decrease compared with that of the previous year.
Tuesday's press conference also issued relevant data on criminal cases against border management. A total of 32,300 cases against border management were handled, with some 117,800 persons arrested.
Throughout last year, 8.85 tons of various types of drugs and 713 tons of precursor chemicals were seized; 3,278 guns of various types were confiscated, and 220 million yuan ($33 million) worth of smuggled goods were seized.
One day after China downgraded COVID-19 management and lifted quarantine for inbound passengers, Global Times reporters learned on January 9 from Beijing's Exit and Entry Administration Service Center that the number of people applying for exit and entry documents had risen sharply.
According to data acquired from online platforms, the number of appointments for applications on that day had already reached almost the same level as in 2019, before the pandemic struck.