Beaches, parks busy in Europe and the US test new coronavirus rules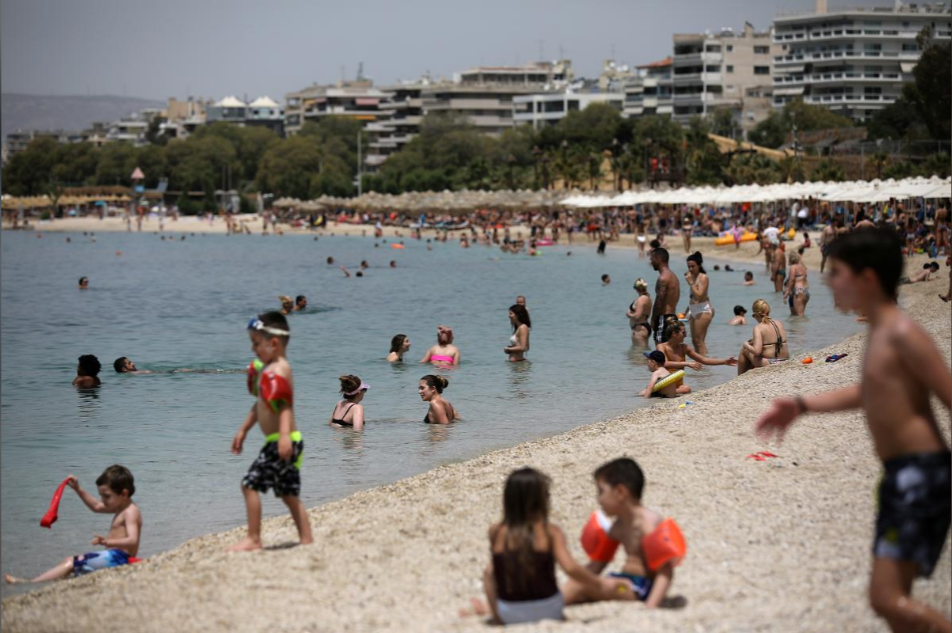 People enjoy the beach after COVID-19 measures are eased, in Athens, Greece, May 16, 2020. (Photo: CGTN)
Summer weather is enticing much of the world to emerge from coronavirus lockdowns as centers of the outbreak from New York to Italy and Spain gradually lift restrictions that have kept millions at home for months.
People are streaming back to beaches, parks and streets just as a heat wave hits southern Europe and spring-like temperatures allow Americans to shed winter coats. As they venture out again, most are keeping their distance and some are wearing masks. However, protests are also heating up from Germany to England to the United States, arguing that the government restrictions demolish personal liberties and are wrecking economies.
Greeks flocked to the seaside on Saturday when more than 500 beaches reopened, coinciding with temperatures of 34 degrees Celsius.
Umbrella poles had to be four meters apart, with canopies no closer than one meter from each other as the country sought to walk the fine line between protecting people from COVID-19 while reviving the tourism sector that many depend on for their livelihoods.
White circles were painted on the lawn in Brooklyn's Domino Park in New York City to help sunbathers and picnickers keep a safe distance. About half the people in the park appeared to be wearing some form of face covering as they congregated in small groups on a warm Saturday afternoon with police officers in masks keeping watch.
On the French Riviera, many who took a dip in the sea wore protective masks. Fishing and surfing were allowed, but sunbathing was banned.
"We're semi-free," said one local bather sporting a straw hat as he strolled the rather empty pebbly beach in Nice.
Bathers seeking relief from the heat in Tel Aviv in the waters of the Mediterranean Sea mostly tried to stay apart.
"We hope that the hot water, weather, make corona go away," said Lilach Vardi, a woman who came to swim in the Dead Sea in Israel, as a lifeguard tried to fry an egg in a pan in the scorching sand nearby.
In Tunisia, which reported no new COVID-19 cases over four consecutive days last week, people flooded into the streets and to recently reopened shops with little social distancing.
The scene elsewhere in the city was much calmer on Sunday as children climbed trees, kicked footballs and threw Frisbees in Greenwich Park. Couples and larger groups sunned themselves on the open lawns, mostly observing social distancing rules as they chatted and drank beer.
"We're really happy to be out," said Niko Privado, who brought his three brightly colored Macaws to the park, each tethered to a portable perch. "It's only the second time we've been able to take them out (since the lockdown)," he said, watched by his wife and daughter.
Nearby, however, a woman working at an ice cream van said business was far from brisk despite the crowds and warm weather.
"It's very bad – only three to four people every hour," said Zara Safat. "It's (because) social distancing and they don't want to wait in long queues."