Sweden extends int'l travel ban as COVID-19 death toll rises to 1,333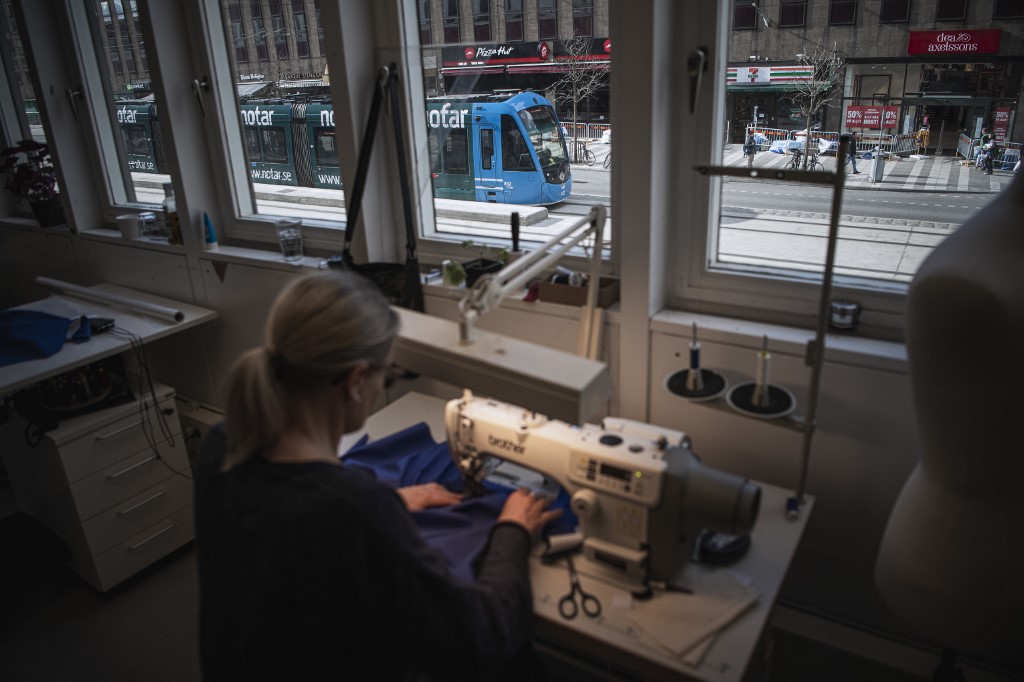 A woman of the Mask and Costume Department at the Stockholm City Theatre (Kulturhuset Stadsteatern) works on producing personal protective equipment (PPE) instead of theatre costumes in order to help hospitals' and nursing homes' staff during the coronavirus COVID-19 pandemic, on April 9, 2020 in Stockholm, Sweden. (Photo: AFP)
STOCKHOLM, April 16 (Xinhua) -- Sweden will extend restrictions on international travel until May 15, Prime Minister Stefan Lofven announced on Thursday.
Lofven added that it may take months before Sweden lift other restrictions put in place to stem the spread of the coronavirus.
Lofven's announcement at a Thursday press conference came after the Public Health Agency presented the latest figures of the confirmed COVID-19 cases, which now stand at 12,540. Out of those, 1,333 have died and 996 have been treated in intensive care.
The international travel ban, introduced on March 17 for 30 days, means non-EU and non-Schengen area nationals will not be able to fly into Sweden.
However, medical personnel, researchers, diplomats and some seasonal workers may be exempt from the ban. It will also remain possible to seek asylum in Sweden.
"This is an exceptional measure, and we hope the ban will not last for long," Lofven said.
Lofven said Sweden cannot yet loosen other restrictions imposed so far, such as a ban on public gatherings of more than 50 people.
He said: "It is still way too early to ease restrictions and recommendations. Despite the fact that the sun is shining and you may have canceled your Easter travel plans, it is not appropriate to celebrate Labor Day (on May 1). "
Swedish Television quoted Swedish police sources saying that around 60 people have been stopped at the Swedish border since the international entry ban was introduced in March.