China ready for Spring Festival travel rush
Global Times
1578682177000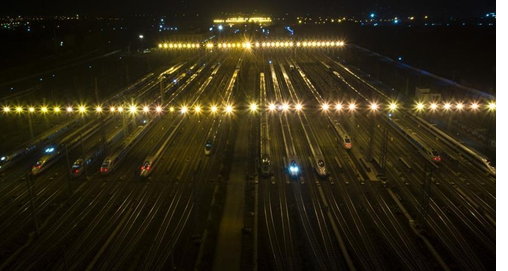 The aerial photo was taken on Jan. 10, 2020 shows high-speed trains at a maintenance station in Chengdu, southwest China's Sichuan Province. (Photo: Xinhua)
Chinese authorities will take multiple measures to ensure a smooth Spring Festival travel rush, with around 440 million trips to be made via railway.
From Jan. 10 to Feb. 18, the total number of trips is likely to hit 3 billion, slightly up from the travel rush last year, with an 8-percent growth in train trips, 8.4-percent increase in air trips and 9.6-percent hike in waterway trips, Zhao Chenxin, spokesperson for the National Development and Reform Commission, told a news conference Thursday.
Due to the continued expansion in high-speed railway operational length, the number of road trips is expected to decline to 2.43 billion.
The Spring Festival this year falls on Jan. 25, coming earlier than previous years, which brings a bigger challenge to the transport system as the return peak of college students overlaps with the travel rush.
The Civil Aviation Administration of China has promised a stronger transportation capability to deal with the air traffic pressure, with 17,000 flights to be scheduled every day, up 13.3 percent year on year.
Meanwhile, the aviation regulator will make more efforts to eliminate the impact of extreme weather and further optimize the emergency plan for large-scale flight delays to improve on-time airport performance.
To meet the rising travel demands, a total of 5,275 two-way train services will be scheduled days before the festival, up 7.7 percent year on year, hitting a record high, said Li Wenxin, vice general manager of the China State Railway Group Co. Ltd.
During the peak period, 157.5 pairs of additional high-speed trains will be put into operation each night, adding 52 more pairs than a year before.
A total of 1,020 stations in the country are expected to adopt the e-ticket system, where passengers can board trains using a valid ID card or a QR code, relieving traffic congestion during the travel rush.
About 790,000 buses and 19,000 boats will be offered during the period, according to Wang Yang, chief engineer of the Ministry of Transport.
Wang added that China has completed the removal of 487 expressway toll booths at provincial borders on Jan. 1, making road trips more convenient and efficient.
Related departments across the country will step up security control and infectious disease prevention to guarantee the safety of travelers during the travel rush.