China sees booming ice-snow tourism with coming Winter Olympics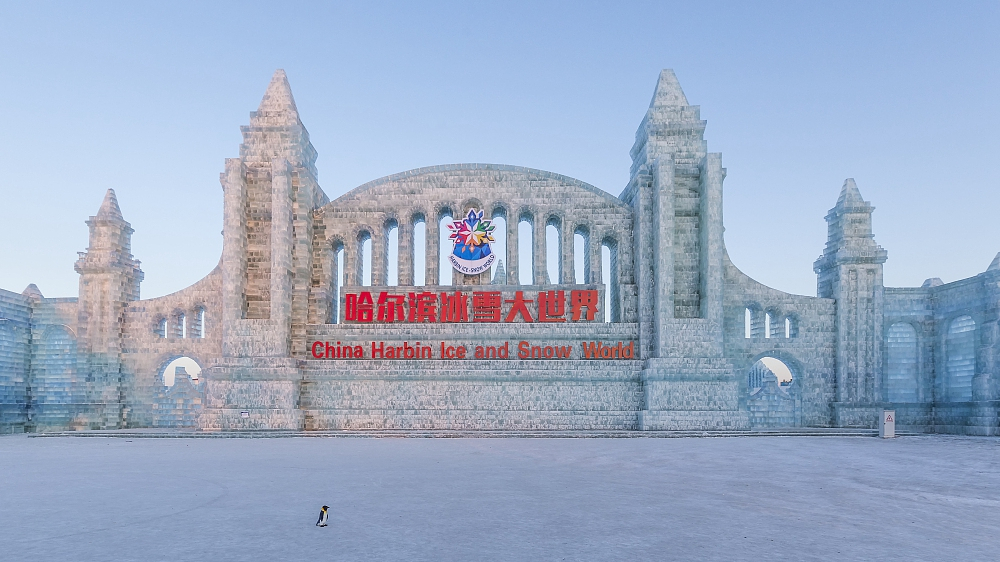 Ice and Snow World in Harbin, northeast China's Heilongjiang Province. (Photo: CGTN)
China is expected to see booming ice and snow tourism as the country braces for the 2022 Winter Olympics in Beijing, according to a report released by the China Tourism Academy.
The report showed that in the 2021-2022 winter season, the country is expected to have 340 million ice and snow tourists with tourism revenue of 680 billion yuan (97.6 billion US dollars).
Many cities across the country have already geared up for the 2022 Winter Olympics by opening various ice and snow festivals and related activities. The well-known "ice city" of Harbin, the capital city of northeast China's Heilongjiang Province, opened its 36th international ice and snow festival on Sunday, with more than 100 activities scheduled for the coming three to four months. Its annual ice and snow festival, founded in 1985, has become a name card of the city as well as a major contributor to its booming winter tourism.
In addition to the city of Harbin, the 4th Snow and Ice Industry Expo and the 23rd Changchun Ice and Snow Tourism Festival opened in Changchun, capital of northeast China's Jilin Province, on December 13. It features a total exhibition area of 100,000 square meters with eight themed pavilions including the ice and snow art pavilion, the Winter Olympics pavilion, the ice and snow equipment and sports pavilion, among others.

The highlight of the expo is the introduction of the Winter Olympics elements for the first time. Besides, there is also virtual reality (VR) skiing, snow tank, live CS (Counter-Strike) games and other indoor and outdoor entertainment activities during the expo.
In the Chinese capital of Beijing, one of the biggest winter festivals – Meet in 2022 Ice and Snow Cultural Festival has opened at the Olympic Park and will run until February 8. Sponsored by the Beijing Organizing Committee for the 2022 Winter Olympic and Paralympic Games, the festival features cultural activities, exhibitions and immersive VR experiences including crossing rope bridges over snowy mountains.
Meanwhile, two major Olympic venues are open to winter sports lovers: The Bird's Nest and the Water Cube, offering diversified activities, ranging from skiing and curling to ice hockey and snowboarding.