Experts: Cooperation not restrictions needed amid coronavirus outbreak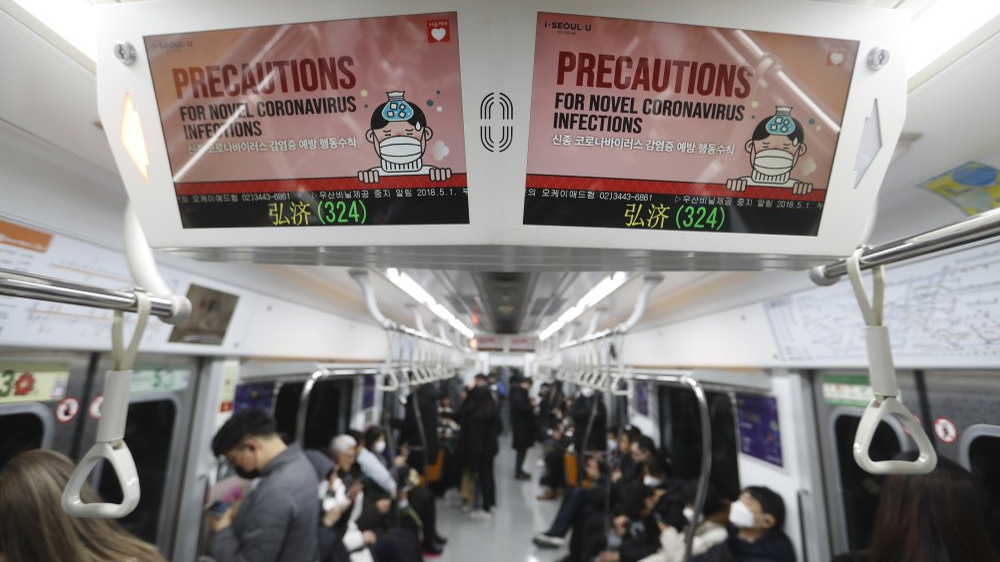 Electric screens about precautions against COVID-19 are seen in a subway train in Seoul, South Korea. (Photo: AP)
Global experts have argued against imposing travel restrictions on China during the novel coronavirus outbreak, saying such measures are groundless, ineffective and against humanity.
The argument has been seconded by the World Health Organization (WHO) and institutions in dozens of countries, which have simultaneously called for international cooperation to support China and fight COVID-19.
In a paper published last week on British medical journal The Lancet, scholars argued that imposing travel bans on China is a flagrant violation of the International Health Regulations (IHR).
The IHR governs how 196 countries and regions and the WHO collectively address the global spread of disease and avoid unnecessary interference with international traffic and trade, stipulating that the measures countries implement when addressing public health risks need to be supported by science, commensurate with the risks involved and anchored in human rights.
Citing Article 43 of the regulations, the paper, written by 16 scholars and supported by research institutions in Canada, Britain, the United States, Norway, Switzerland and Italy among others, argued that the travel restrictions against China are ineffective, not supported by science and, most importantly, disregard the dignity, human rights and fundamental freedoms of people.
EU health ministers agreed to increase preparation and coordination to prevent the COVID-19 from spreading across Europe during a special meeting in Brussels last Thursday.
EU Health Commissioner Stella Kyriakides reportedly said the EU is not considering banning Chinese travelers from entering its visa-free Schengen area at the moment and they should have faith in the measures being taken by member states and China to contain the virus.
In Africa, the Director for Centers for Disease Control and Prevention (CDC) John Nkengasong said the African CDC is currently coordinating with China to address the outbreak and warned against baseless fearmongering.
Shutting out Chinese travelers and trade could actually make it harder to tackle the COVID-19 outbreak, according to Canada's Health Minister Patty Hajdu. She said even if Canada blocked all travel to and from China, people could find alternative routes and lie about where they've been, making it even harder to screen people coming in.
The International Civil Aviation Organization has repeatedly called on its members to follow the travel and health recommendations issued by the WHO and not to impose restrictions inconsistent with the IHR. Other aviation organizations including the International Air Transport Association and Association of Asia Pacific Airlines have also spoken against travel restrictions that disrupt international air transport.
The WHO has said there is no reason for measures that unnecessarily interfere with international travel and trade. Addressing the 146th session of the WHO Executive Board meeting earlier this month, Director-General Tedros Adhanom Ghebreyesus called on all countries to implement decisions that are evidence-based and consistent.
Tedros's advice has been echoed by his predecessor Margaret Chan. "WHO has declared that all countries shall not impose travel or trade restrictions on China. And this is also the spirit of international health regulations valued by the WHO," the former director-general has said.
"Such outbreaks can happen in any parts of the world. Rather than giving pressure to China or suspending the flights and imposing travel bans, the international community should help and cooperate with it in this crisis period," said Sundarnath Bhattarai, acting chairman of China Study Center-Nepal.
Jennifer Nuzzo, associate professor at Johns Hopkins Bloomberg School of Public Health, said the United States should re-examine its approach to the crisis, including travel restrictions and suspension of flights.
These measures are inconsistent with the advice of the WHO, and unlikely to be effective in stopping the virus from entering the country; instead they will take a toll on the economy and trade, said Nuzzo.