Shanghai introduces public transport, travel hub safety plan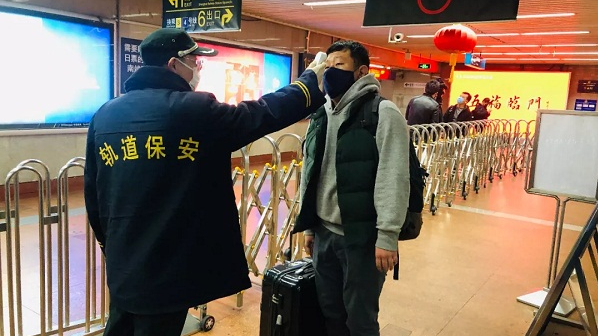 The temperature check at one of the metro stations in Shanghai. (Photo: Shanghai Metro)
Shanghai has introduced a comprehensive and intensive prevention plan for all of its public transportation and travel hubs to contain the spread of the novel coronavirus pneumonia (NCP) as an influx of people is expected to return to the city on Monday.
Every passenger must undergo temperature checks, health registration and wear a face mask if they enter via a highway, railway, airport or dock. Disinfection has also been enhanced at railway stations, airports and in buses, metro trains and taxis, the municipal government said Sunday during its daily press conference on the NCP epidemic.
Metro passengers now have their temperature checked at 106 stations around the city, with all lines covered, Shanghai Metro said on Sunday. A person with a temperature higher than 37.3 degrees Celsius is subject to medical observation and possible quarantine.
The metro administration also reminded the public that it is mandatory for people to wear face masks on the train. Anyone who doesn't wear a mask will be barred from entering train carriages.
Shanghai Transportation Commission said on Saturday that those who take buses from 99 bus stations around the city now have temperature checks, with 370 routes covered.
There has been an increase of passengers arriving in Shanghai over the past week. On Sunday, the city's three railway stations received about 120,000 arrivals, according to the rail authorities. The arrival figure was 103,000 on Saturday, 102,000 on Friday, and 89,000 on Thursday.
The city's two airports received 116,000 passengers from Thursday to Saturday. On Sunday, Pudong International Airport received 48,000 and Hongqiao International Airport 27,000.
Passenger flow on the city's metro trains also increased from a bare minimum during the Spring Festival to about 819,000 passengers on Saturday.