Egypt closes museums, sites "indefinitely" over COVID-19, provides online virtual tours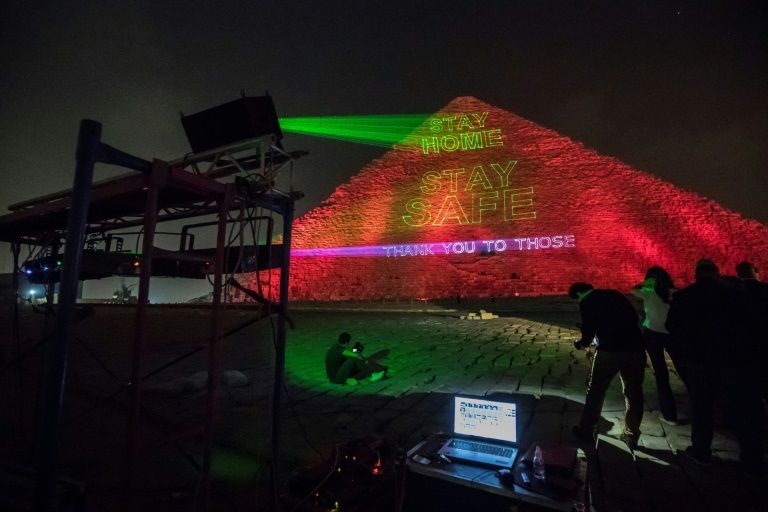 Egypt has carried out sweeping disinfection operations at archaeological sites, museums and other sites, March 30, 2020. (Photo: AFP)
CAIRO, April 9 (Xinhua) -- The Egyptian Ministry of Tourism and Antiquities decided on Thursday to shut down all museums and archeological sites "indefinitely" after they have been temporarily closed as part of the country's precautionary measures against the spread of COVID-19.
The ministry said in a statement that the decision was made "in accordance with the state efforts to preserve the health of citizens and avoid any possible repercussions of the novel coronavirus."
The decision came a day after the cabinet announced extending the nationwide nighttime curfew that started on March 25 for another two weeks until April 23, reducing curfew hours from 11 to 10.
The Ministry of Tourism and Antiquities will continue closure of all dining and entertainment places at hotels nationwide until April 23, including restaurants, nightclubs, health clubs, swimming pools, wedding halls and the like.
Meanwhile, under the slogan of "Experience Egypt from Home! Stay Home! Stay Safe!" the ministry launched on April 3 a series of online virtual and guided video tours of a number of museums and archaeological sites around Egypt.
The virtual tours are designed in collaboration with the ministry's partners from scientific and archaeological institutes.
The first tour took online visitors to explore the Menna Tomb in Theban Necropolis, which is one of the most beautiful tombs on Luxor's West Bank, dating back to the 18th Dynasty that ruled ancient Egypt about 3,500 years ago.
Later tours included the tomb of Queen Meresankh III, granddaughter of King Khufu who built the Great Pyramid of Giza, the Red Monastery in Upper Egypt's Sohag province, the Mosque and School of Sultan Barquq and the Ben Ezra Synagogue in Old Cairo, and the beautifully painted tomb of Kheti in the rock-hewn Necropolis of Beni Hasan in Minya province south of Egypt.
Mostafa Waziri, secretary-general of Egypt's Supreme Council of Antiquities (SCA), said that the virtual tours are meant to send a message to Egyptians and everyone in the world to take care of themselves and they can still explore Egypt while staying safe at home.
"This is a very important message we send in both Arabic and English to tell our visitors that we can deliver the tours to them at home," the SCA chief told Xinhua on Thursday.
"We also seize the opportunity to keep Egypt and its monuments memorable in the minds of the whole world," the Egyptian official added.
Over the past few weeks, Egypt has temporarily suspended schools and universities, halted flights, cancelled sports activities, closed entertainment places and malls and stopped mass prayers in mosques and churches over COVID-19 concerns.