Vote counting underway in Liberia vote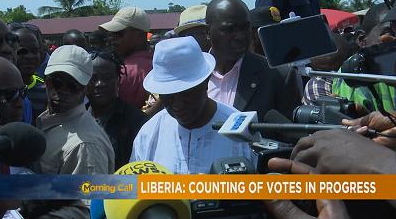 Vote counting was underway in Liberia on Wednesday following a peaceful run-off election for a new president, pitting former international footballer George Weah against Vice-President Joseph Boakai.
Voters were choosing a successor to President Ellen Johnson Sirleaf, who is stepping down after 12 years as Africa's first elected female head of state.
Results of Tuesday's vote are expected in a few days, in what would be the West African country's first democratic transition since 1944, according to electoral officials.
The ballot was delayed for seven weeks due to legal challenges lodged by Boakai's Unity Party against the electoral commission over the conduct of the first round of voting, but many of the complaints appeared to have been addressed in the second round.
The Liberia Elections Observation Network, which had more than 1,000 observers stationed across the country, hailed a vote it said had passed calmly with better organization than the first poll on October 10.
Former Nigerian president Goodluck Jonathan, who served as an electoral observer for the US-based National Democratic Institute (NDI), said a successful resolution to the process was of particular importance within the international community.
"This transition is critical and if we succeed, if Liberia succeeds, West Africa succeeded and Africa succeeded," he said.