NYPD confirms NY truck attacker Sayfullo Saipov: planned attack for weeks and did it 'in the name of ISIS'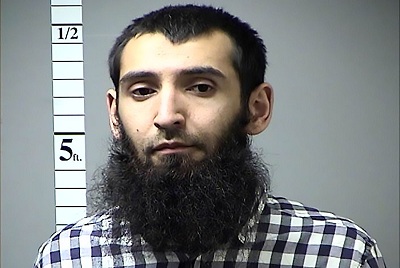 New York city truck attacker Sayfullo Saipov. (Photo: VCG )
NEW YORK — The NYPD commissioner of interlligence confirms the attacker: Sayfullo Saipov, 29 years old. John Miller, NYPD deputy commissioner of counterterrorism, says bike path attacker had been planning attack for weeks and the truck was "carried out in the name of ISIS".
President Donald Trump is calling the suspect in the New York City truck attack an "animal."
Trump says he will ask Congress to "immediately" begin work to terminate the Diversity Immigrant Visa Program, which he says was used by the alleged attacker to enter the United States. Officials have not yet said that was the case.
Trump says "we will take all necessary steps to protect our people."
Speaking before a Cabinet meeting at the White House, Trump said "all of America is praying and grieving" with the victims. He says: "Our hearts break for them."
He says he will consider sending the suspected New York City truck attacker to the prison in Guantanamo Bay, Cuba.
Responding to a shouted question from a reporter at a Cabinet meeting, Trump says, "I would certainly consider that. Send him to Gitmo"
Trump's comments come after Sen. Lindsey Graham, R-S.C., called on the president to treat the alleged attacker as an enemy combatant. The suspect is currently in custody in New York City, but according to officials has not yet been formally charged.
A New York Police Department official says beefed-up security at the New York City marathon will include sniper teams, sand truck barricades, and counterterrorism officers.
Chief of Department Carlos Gomez vows that the marathon on Sunday will be a "very safe event."
Gomez said Wednesday that there also will be an abundance of plainclothes officers, bomb dogs and helicoptersurveillance.
Court records show the Sayfullo Saipov was cited several times in Nebraska and Iowa for trucking violations before he took the deadly drive down a crowded bike path in New York City on Tuesday.
Online court records in Nebraska show Sayfullo Saipov was most recently ticketed by the Nebraska State Patrol on Feb. 4 for having an overweight truck in Cass County and paid the $75 fine.
In March 2014, he pleaded guilty and was fined $50 in Lincoln County for failing to stop and have his truck weighed.
In October 2011, Saipov pleaded guilty to driving more than 11 hours in a 14-hour period in Cass County and paid a $50 fine. Six weeks later, he was ticketed for driving an overweight truck through Nebraska and fined $150.
In Iowa, Saipov paid $127.50 in court costs and fines for not keeping his driving log current in December 2011.