Video of laughing Chinese spokeswoman goes viral in Japan
People's Daily app
1513927470000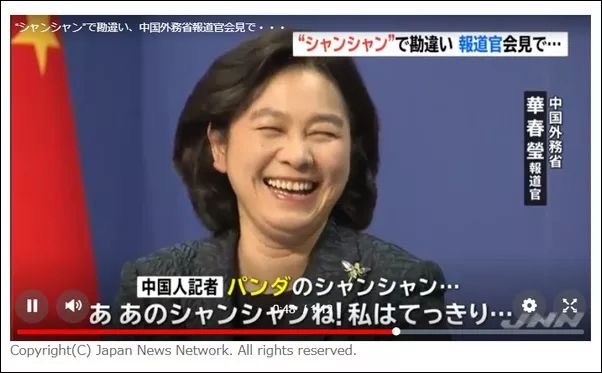 Screenshot: Hua Chunying realizes her misunderstanding.
A video of a laughing Chinese foreign ministry spokeswoman has gone viral on Japanese news.
It began with a panda cub. Xiang Xiang made her public debut at Ueno Zoo in Tokyo on Wednesday, attracting attention in both China and Japan.
At the same day's regular press conference in Beijing, a Japanese journalist asked foreign ministry spokeswoman Hua Chunying for her comments on Xiang Xiang.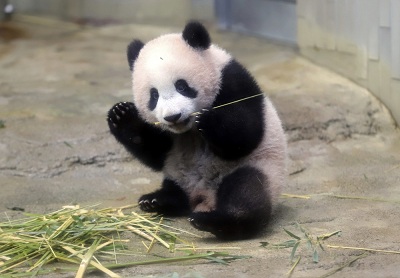 Tokyo resident Xiang Xiang snacks at the Ueno Zoological Gardens. (Photo: AP)
"China hopes the two countries can meet each other halfway and deal with related issues in a proper way," Hua replied.
Hua Chunying forges friendly ties at the foreign ministry press conference on Wednesday.
Confusion, tittering.
A Chinese journalist explained to Hua that the reporter was asking about the new panda cub.
Hua burst out laughing, a rare sight in the traditionally solemn setting of a foreign ministry press briefing. Hua is more accustomed to commenting - extremely carefully - on the latest crises in the Middle East or perhaps even the East China Sea.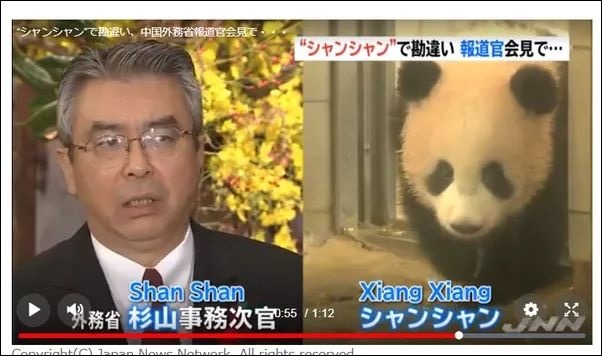 Screenshot: Shanshan and Xiangxiang
Hua's howler was soon figured out by Japanese media: Xiangxiang sounds similar to Shanshan, the Chinese surname for Shinsuke Sugiyama, vice foreign minister of Japan.
Hua quickly reset her response to default diplomatese: The giant panda was "quite adorable" and served as a "little ambassador" to promote friendly exchanges between China and foreign countries. It was hoped that Xiangxiang could play a positive role as a "little ambassador" in building a closer bond and enhancing friendship between the Chinese and Japanese people and promoting sound development of China-Japan relations. But Hua's smile might arguably prove more effective even than panda diplomacy: The video clip won most views on the international video channel of Yahoo Japan News.

The video ranks top on Yahoo Japan international videos.


The video ranks top on Yahoo Japan international videos.
The video had 1,226 comments as of Friday noon. "She laughed" and "It's my first time to see her laughing" got most likes. Internet users commented in Japanese:
"Really cute laugh."
"Very nice smile. Hope she could also smile when answering general reporter questions."
"She is very cute when she laughs. Lovely smiling face."
"Hope to see her smile more."
"It's my first time to see her laughing"
"Very cute. Precious video."
"She is more charming when she smiles."
"Hope to see her smiles more."
"I've watched twice."
"very nice. My impression towards China has been changed."
"Shinsuke Sugiyama, how about meeting Hua in panda clothes next time?"
and "Hope (Hua) will come and look at the comments".
(Compiled by Fang Tian and Du Mingming)