CCDI and CPC Central Committee organization department officials meet media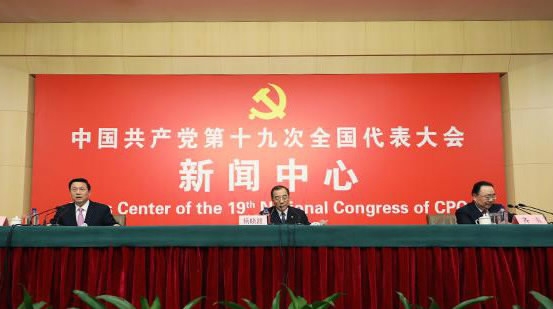 Senior officials from the Central Commission for Discipline Inspection (CCDI) of the Communist Party of China (CPC) and the Organization Department of the CPC Central Committee met the press Thursday as the 19th CPC National Congress enters its second day.
On organizational work of the Party
Qi Yu, vice minister of the Organization Department of the CPC Central Committee, briefed the media on how the Party is organized, including explaining the selection process of officials, self-governance and training courses.
Qi said the Party has implemented a strict routine of oversight and expanded intra-Party education.
The number of Party members continues to steadily rise, he added.
On strict self-governance
Strengthening self-governance has been a priority for the Party, said Yang Xiaodu, deputy secretary of the CCDI.
Noting the efforts made in fighting against misconduct and corruption over the past five years, Yang said the social atmosphere within the Party has been improved.
Discipline inspection authorities have punished 1.537 million officials in the past five years, Yang said.
"We have continued to track graft officials fleeing abroad and brought back 3,453 of them," Yang said, adding that 48 people on China's top 100 list of most wanted fugitives had been brought back.
The Congress began in Beijing on Wednesday with more than 2,300 delegates attending.
It is a major, twice-a-decade political event that will lay out the blueprint for the future of the Party and the country in the next five years.