China, Thailand inaugurate construction of Thailand's first high-speed rail
People's Daily
1513868079000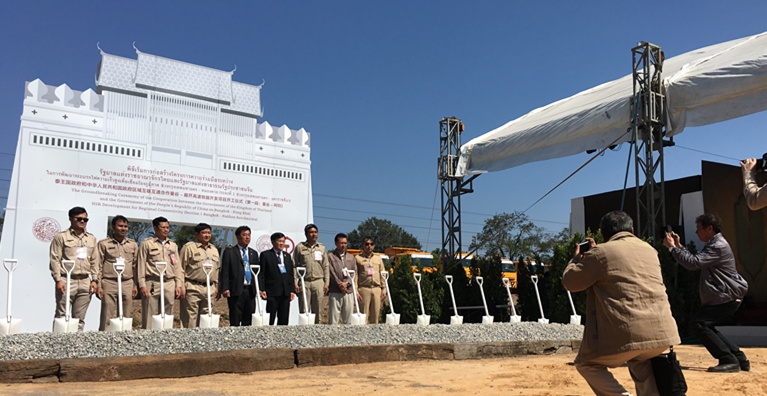 (Photo: Yu Yichun/ People's Daily)
Nakhon Ratchasima, (People's Daily) - The construction of the Sino-Thai high-speed railway project from Bangkok to Nakhon Ratchasima kicked off on Thursday in Pak Chong district, Nakhon Ratchasima Province.
Under the theme "Working Hand in Hand, Everything Runs Smoothly," the inaugural ceremony was presided over by Thai Prime Minister Prayut Chan-o-cha.
The 252.3-kilometer-long Section 1, which comprises 181.9 kilometers of elevated track, 64 kilometers of at-grade track and 6.4 kilometers of railway tunnels, will pass six stations as Bang Sue Grand Station, Don Mueang, Ayutthaya, Saraburi, Pak Chong and Nakhon Ratchasima.
Wang Xiaotao, the representative from Chinese government, read a congratulatory letter written by Chinese Premier Li Keqiang during the ceremony.
China highly values the relationship with Thailand as a friendly neighbor, wrote Premier Li, adding that this project can be a new platform to push forward solid cooperation and to advance comprehensive strategic partnership between the two countries, benefiting the two peoples.
"Our two parties have fruitful cooperation in economic, social, and cultural fields. The project, which can be part of transportation in the 'One Belt and One Road' initiative, helps Thailand become a transportation hub and logistics center of ASEAN", Prayut said.
The project will utilize Chinese high-speed railway technology; The Chinese side takes charge of design, construction supervision, HSR system, signaling and train control systems, while the Thai side takes responsibility for fund raising and construction.
Thai Minister of Transport Arkhom Termpittayapaisith told the People's Daily that the project marked the second science and technology revolution in the railway history of Thailand.
In the year 1896, Thailand's first railway line running from Bangkok to Nakhon Ratchasima started operation; More than 100 years later, high-speed rail technology is to be brought to Thailand, said the minister.
Arkhom said he believed that the project will boost the development of Thailand and the ASEAN region as a whole.