The 'misconceived' China in my mind
People's Daily app
1523945082000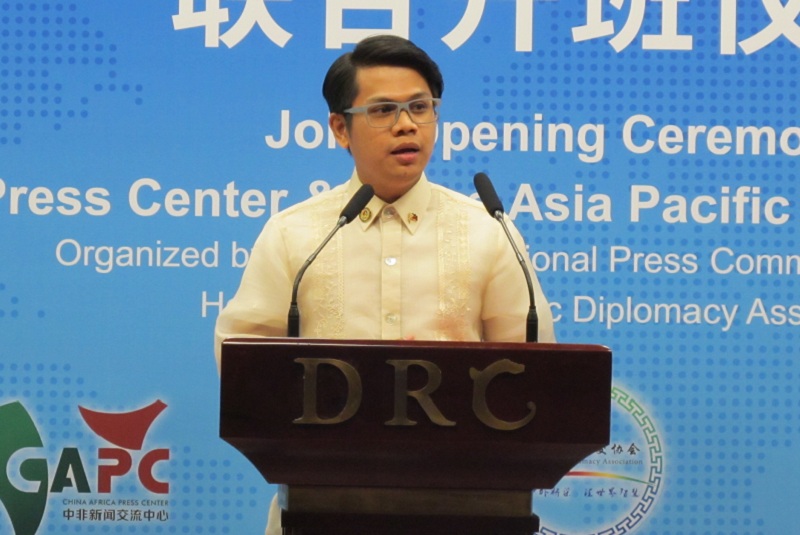 Greggy Eugenio speaks at the joint opening ceremony of China Africa Press Center & China Asia Pacific Press Center 2018 Program (Photo: people.cn)
To be honest, there was a time when I had no plans to visit China, as the information from some media gave me a bad impression of China. And the dispute between the Philippines and China on some of the islands along the border of the South China Sea and Philippine Sea also strengthened my bias.
My views changed in 2016. When I covered the Philippine elections, then-presidential candidate Rodrigo Duterte talked about China. His words inspired me to know more about China when I restudied our nation's history and learned about China's trade with us.
Then came the chance to experience China myself. I am now in China as a participant in the China-Asia Pacific Press Center Media Exchange program under the China Public Diplomacy Association.
Here, I met many nice Chinese. I covered one of the most anticipated and biggest political events in China, the 13th National People's Congress and the 13th Chinese People's Political Consultative Conference. We saw how they chose their officials. I've also realized that being a leader in China is not easy. Unlike in my country, a celebrity can win a seat in government. In China, you really have to start from the grass roots and prove yourself.
We are exposed to Chinese history, culture, language, media and politics that we never see in our country and we tend to compare. The Media Exchange Program that we are part of is not designed to love China but to open our minds and understand, and to get rid of our misconceptions.
Our journey continues. I am looking forward to more international coverage such as the China International Import Expo in Shanghai. Hopefully, we could be given a chance to interview China's pride, like Jackie Chan and former NBA superstar Yao Ming.
I am also excited over our visits to different Chinese provinces to see the life and beauty of various Chinese ethnic groups, and also to observe life in China on the grass roots level. I would also like to visit the province where President Xi Jinping grew up.
I also urge everyone to work hand in hand to create a Memorandum of Understanding between us – the 42 countries, including China, to push for media global cooperation, to help each other in disseminating factual news and to combat fake news that affects the credibility and reliability of media.
(The author is a reporter from Philippine News Agency)