Malian migrant to be made French citizen
People's Daily
1527609905000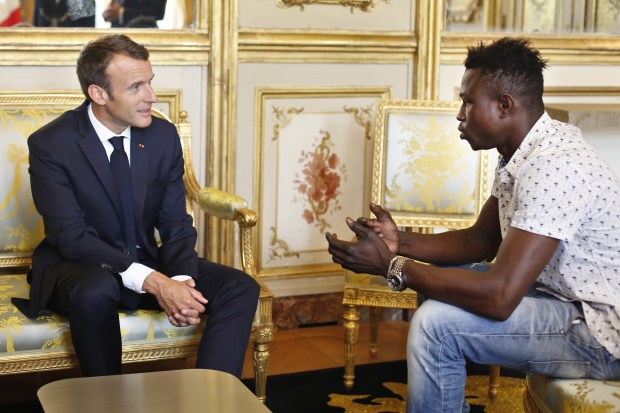 French President Emmanuel Macron, left, meets with Mamoudou Gassama, 22, from Mali, at the presidential Elysee Palace in Paris, Monday, May, 28, 2018. (Photo: AP)
Paris (People's daily) - French President Emmanuel Macron received a Malian migrant at the Elysee palace on Monday for saving a little child on Saturday.
Macron announced that the man would be naturalized as a French citizen and also offered him to join the firefighter service of Paris.
In a video, Mamoudou Gassam was seen climbing the exterior of a building to save a child dangling from a balcony. He pulled himself to the fourth floor in about 30 seconds. His fearless and quick action brought him the nickname "Spider-Man" in real life.
Gassam said he was just passing by the building where a number of people were gathered.
"I didn't have time to think, I ran across the crowd to save him," he said.
According to the firefighters, it was lucky to have someone nearby who was physically fit enough and had the courage to save the child.
It was reported that Gassama left his country in 2013. He traveled to Europe by crossing through Burkina Faso, Niger and Libya.
In 2014, he arrived in Italy. He continued to go west to join his relatives living in France in 2017 and lived in Paris without official papers.
Interior minister Gérard Collomb confirmed that he would personally ensure Gassama's request would be accepted.
At a time when France has decided to tighten its policy on immigration, the main opposition parties welcome the decision.
National Front president Marine Le Pen saluted "this heroic behavior which deserves him the French nationality" while alarmed by the danger posed by some "criminals" detained who have the permission to stay in France.
"Bravo to this young man! Bravo to his total integration in French society!" "He is a hero who deserves the whole country's respect!" "He shows his courage spontaneously!" French netizens said.