32 Chinese died in DPRK road accident: FM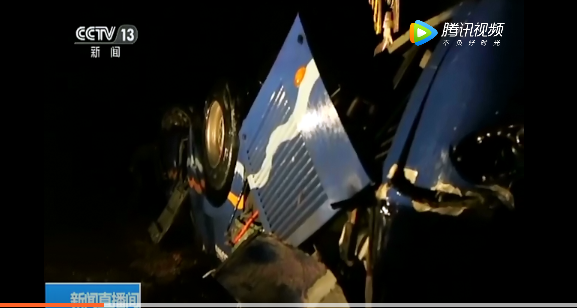 Rescue work is underway after a crash occurred on Sunday night in an area south of the capital, Pyongyang, North Korea. (Photo: CCTV)
China dispatched a working group with medical experts to the Democratic People's Republic of Korea on Monday noon after a major road accident occurred on Sunday night in the country, the Foreign Ministry said on Monday afternoon.
The accident, which occurred in North Hwanghae Province, south of Pyongyang, killed 32 Chinese tourists and four DPRK personnel, Foreign Ministry spokesman Lu Kang told a routine press briefing.
Two Chinese tourists were seriously injured and their situation is extremely critical, according to Lu.
He said China conveys profound condolences to the Chinese nationals and DPRK personnel who were killed in the accident, and expresses deep sympathy to the injured and the families of the victims.
After the accident, the Chinese Foreign Ministry and the Chinese embassy in the DPRK promptly launched an emergency mechanism and spared no efforts to handle the accident, said Lu.
The DPRK side attaches great importance to the accident, he said, noting that relevant DPRK departments have been actively cooperating with the Chinese side to carry out rescue, rehabilitation and investigation work.
China will maintain close communication and coordination with the DPRK side and push forward follow-up work, said the spokesman.