Hounded by graft probe, fearing safety Malaysia's Najib seeks protection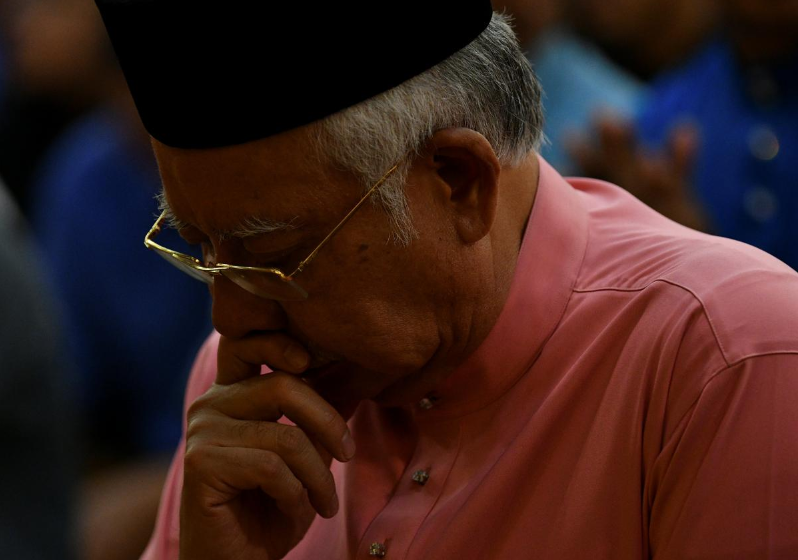 Malaysia's former Prime Minister Najib Razak prays before he attends the United Malays National Organisation (UMNO) 72th anniversary celebrations in Kuala Lumpur, Malaysia May 11, 2018 (Photo: Reuters)
Malaysia's former prime minister Najib Razak fears for his safety and has asked for police protection, his spokesman said on Sunday, a day after the ex-leader complained over the conduct of police searching properties for evidence of corruption.
Having ruled Malaysia for nearly 10 years, Najib and his wife, Rosmah Mansor, have been barred from leaving the country after his coalition's surprise defeat in an election on May 9.
The new government led by his mentor-turned-foe, Mahathir Mohamad, wants answers to how billions of dollars disappeared from 1Malaysia Development Berhad (1MDB), a state fund founded by Najib.
Najib has consistently denied all allegations of wrongdoing, but his image hasn't been helped by his wife's reputation for lavish spending.
Earlier on Sunday, the couple left Kuala Lumpur to spend time in Najib's home state of Pahang, having suffered the ignominy of police searching their home and other properties in the capital during the past few days.
Before retreating to his family constituency, Najib asked for police protection, though police have been stationed outside his house for the past week and he still travels with a police escort.
"Najib has lodged a police report asking for protection for himself and his family as they fear for their safety after the 14th General Election," the spokesman told Bernama news agency.
The Malay Mail newspaper reported that Najib had sought witness protection from the police due to "clear threats made".
Neither Bernama or the newspaper gave an indication on the source of any threat, and Najib's spokesmen were unable to immediately comment on the reports when contacted by Reuters.
For the past two days, Malaysians have been avidly viewing footage of officers removing bags and boxes aired on news channels and uploaded to social media platforms.
The police have seized at least 284 boxes of designer handbags and dozens of bags filled with cash and jewelry in the raids. Items such as Birkin handbags from Hermes, watches and other valuables were seen carted out of one condominium in downtown Kuala Lumpur.
Malaysia's anti-graft agency wants to see the former leader back in the capital at its headquarters on Tuesday to give a statement specifically on the transfer of $10.6 million from a former unit of 1MDB to an account belonging to Najib.
1MDB is also the focus of the biggest anti-kleptocracy probe launched by the Department of Justice in the United States.
WHO ATE ALL THE CHOCOLATE?
Peeved by their very public humiliation, Najib and his wife had their lawyers issue statements on Saturday complaining about the conduct of the police.
Rosmah's lawyer said it risked creating a "premature public trial", while allegations from Najib's lawyer prompted an internal police probe into who ate the family's chocolate.
"The cavalier and irresponsible manner in which the raid was conducted, and the seizure made is reflected by the manner in which the police personnel helped themselves to food and chocolates in the refrigerator and further demanded that the meals be prepared for them," Najib's lawyer, Harpal Singh Grewal, said in a statement.
In response Amar Singh, director of the police's commercial crime investigation department, promised "stern action...if the allegations are found to be true".