US Treasury Secretary considering trip to China amid trade spat
People's Daily app - AP
1524360499000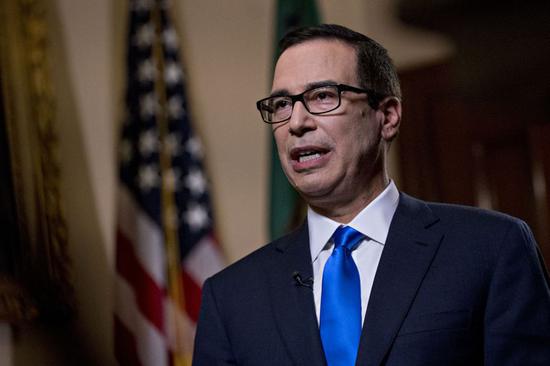 US Treasury Secretary Steven Mnuchin (File Photo)
US Treasury Secretary Steven Mnuchin expressed cautious optimism Saturday over efforts to resolve trade tensions that have rattled financial markets and clouded the global economic outlook, saying that he may soon travel to Beijing for further talks.
Mnuchin held a string of meetings over the past three days with financial officials from China, Japan and Europe over the punitive tariffs the administration has unveiled in an effort to fulfill US President Donald Trump's campaign promise to reduce America's huge trade deficits.
In a session with reporters, Mnuchin refused to say how close the United States was to resolving the various trade disputes but did indicate progress was being made in the talks.
The United States and China are on the brink of what would be the biggest trade dispute since World War II. The US and China have proposed imposing tariffs of $50 billion on each others' products and Trump is looking to impose tariffs on up to $100 billion more of Chinese goods.
The rising trade tensions dominated the three days of talks among top finance officials attending meetings of the Group of 20 major economies, the 189-nation International Monetary Fund and its sister lending agency, the World Bank.
The US get-tough trade approach was roundly criticized by many countries at the finance meetings but Mnuchin insisted that the United States was not trying to provoke a global trade war but simply achieving a more fair system for American workers.