Texas school shooting leaves at least 8 dead and others injured
People's Daily app - AP
1526656528000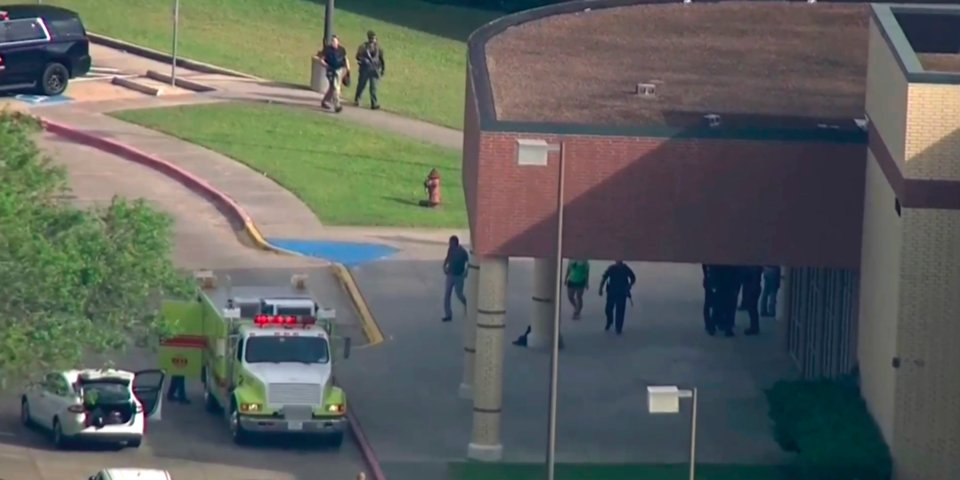 In this image taken from video, law-enforcement officers respond to a high school near Houston after a shooter was reported on campus, Friday, May 18, 2018, in Santa Fe, Texas. (KTRK-TV ABC13 via AP)
At least eight people are dead and a number of people have been injured in a shooting at a Texas high school on Friday, according to local reports.
The school district has confirmed an unspecified number of injuries but is not immediately releasing further details. Assistant Principal Cris Richardson says a suspect "has been arrested and secured."
Television station KHOU and the Houston Chronicle are citing unnamed federal, county and police officials following the shooting early Friday at Santa Fe High School, about 30 miles (48 kilometers) southeast of Houston.
Santa Fe is a city of about 13,000 residents, located 30 miles (48 kilometers) southeast of Houston.
One student told Houston television station KTRK in a telephone interview that a gunman came into her first-period art class and started shooting. The student says she saw one girl with blood on her leg as the class evacuated the room.