Chinese MFA responds to doubts about aid to Africa
People's Daily app
1522422411000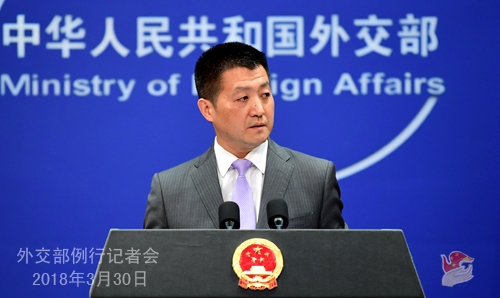 China's foreign ministry on Friday defended the country's investment in Africa, stressing its support aims to help the continent develop and achieve prosperity.
Foreign ministry spokesman Lu Kang, responding to doubts about China's motivation for helping Africa build projects like the new headquarters of the
Economic Community of West African States (ECOWAS), said, "China has always supported ECOWAS in strengthening its capacity building and playing a bigger role in peace and development in West Africa and Africa, which is actually an important part of China's consistent support for the self-reliance and integration process, and peace and development in Africa."
"As is known to all, backwardness in infrastructure is one of the major bottlenecks that have constrained Africa's development," said Lu, "ECOWAS is an important sub-regional organization in Africa, and it has made important contributions to maintaining regional peace and promoting regional economic integration."
These projects are exactly what the Chinese government agreed to support in accordance with the explicit requirements of ECOWAS, and the projects have been welcomed by African people, said Lu, adding he had noticed some Western media's groundless accusations.
He quoted a Chinese saying, "Do not judge others based on your own heart."
Jean-Claude Brou, the president of ECOWAS, thanked China and confirmed the organization's commitment to promoting future ECOWAS-China cooperation, according to CNN. He also called this project a mark of goodwill from China.
Namibia's President Hage Geingob who is now on a state visit to China, said on Thursday that China has never colonized Africa, never plundered Africa, and has always treated African countries equally.
"China supported Africa's just causes in the past and continues to help Africa's development at the present. China is Africa's sincere partner and friend. African people oppose those groundless accusations," said Geingob.
Lu stressed that murmurs from the outside world will not shake the will of China-Africa solidarity and cooperation, nor will it stop China-African progress.
When asked the overall goal of China's overseas assistance, Lu said that it remains an important part of China's diplomacy today to support developing countries like African countries to strengthen their own capacity building and achieve development and prosperity.
"We will continue to combine mutually beneficial cooperation with developing countries to achieve mutually beneficial cooperation and joint development, and work together to build a community of human destiny," Lu said.
(Compiled by Zhu Yingqi)