China to deepen financial reform: PBC chief
People's Daily app
1521973181000
China will deepen the reform and further open-up its financial industry for greater competitiveness, Yi Gang, the central bank's new chief, said on Sunday, adding that the country's financial system will serve the real economy.
"We will implement the reform plan for the fiscal and taxation system while reining in systemic risks and building up the corporate governance structure of financial companies," Yi noted during his first public keynote speech at the China Development Forum in Beijing, after his nomination as the central bank's governor was endorsed.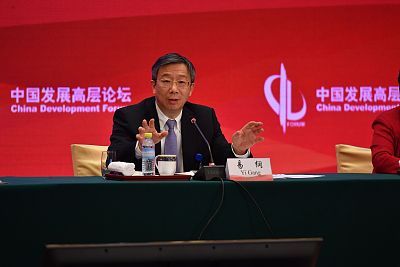 Yi Gang at the China Development Forum (Photo: VCG)
China will also strengthen the debt constraints of State-owned enterprises and improve real estate financial control policies while establishing long-term mechanisms to prevent financial risks in the sector, Yi said.

In 2018, the People's Bank of China (PBC) expects to see mild inflation pressures and producer price increases might slow down, Yi also said at a Q&A session in Beijing.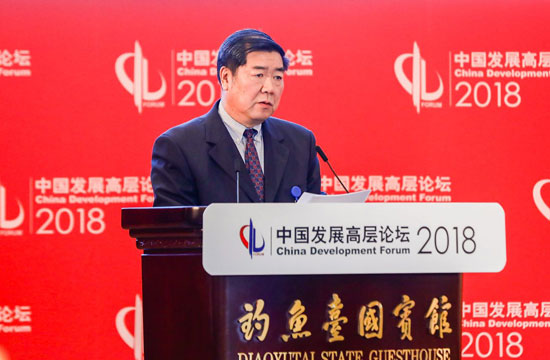 He Lifeng at the China Development Forum (Photo: VCG)
At the same forum, He Lifeng, head of the National Development and Reform Commission, summarized four imperatives for China's high quality development while the country makes greater contributions to the development of the global economy.
He stressed that talent is the priority and innovation is the primary driving force for development.
China will standardize the metrics of development while putting quality and efficiency first. The country will push forward high quality development by transforming the quality, efficiency and growth momentum, He noted.
The central government will provide system guarantees by building up an economic system with effective market mechanisms, vibrant micro-entities, and macroeconomic controls, He added.
China will step up efforts to work on the "three critical battles": lifting all people in the Chinese mainland out of poverty, controlling pollution and preventing major economic risks.
The central government will also further improve the top-level design, build a long-term mechanism, vigorously change the mode of economic development, optimize the economic structure, transform the growth momentum, and deliver a modern economic system, He said.
While transforming the growth approach into high-quality development, China will provide novel and greater opportunities for investors from all countries, and forthcoming cooperation will make greater contributions to the global economy, He stressed.