Suspended Cambridge Analytica CEO recalled by British parliamentary committee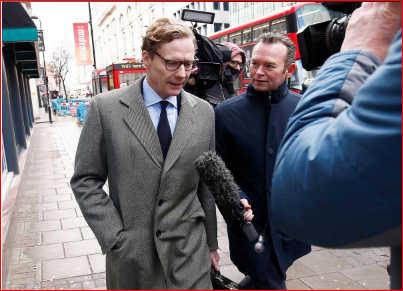 Alexander Nix, CEO of Cambridge Analytica arrives at the offices of Cambridge Analytica in central London, Britain, March 20, 2018. (Photo: Reuters)
A British parliamentary committee has recalled the suspended chief executive of Cambridge Analytica to face further questions over his role in the harvesting of Facebook data after finding "inconsistencies" in his previous testimony.
The world's largest social media network has been rocked this week by a whistleblower who said that the London-based political consultancy Cambridge Analytica improperly accessed user information to build profiles on American voters that were later used to help elect U.S. President Donald Trump in 2016.

The media select committee said they wanted to put more questions to Alexander Nix, the suspended CEO of Cambridge Analytica, after he previously told the parliamentary group he had not received Facebook data from a third party.

"Giving false statements to a Select Committee is a very serious matter," Damian Collins, the chair of the committee, wrote in a letter to Nix. "We urge you to come forward and explain your comments at a Committee hearing."