Suspected rebels kill at least 11 in northeastern Congo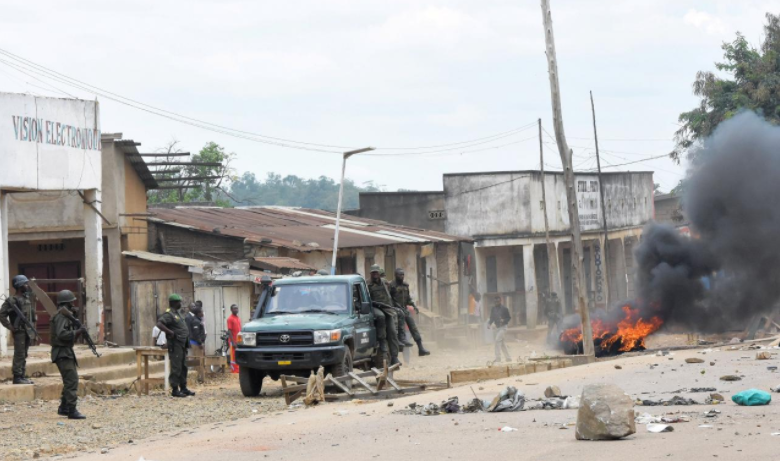 Congolese soldiers from the Armed Forces of the Democratic Republic of Congo (FARDC) patrol the streets following an attack by suspected Islamist rebels who killed at least 11 civilians in Beni, Democratic Republic of Congo, March 28, 2018 (Photo: Reuters)
Islamist rebels are suspected of killing at least 11 civilians in an attack in northeastern Democratic Republic of Congo, officials said on Wednesday, adding to some 1,000 civilians who have been killed there in similar attacks since 2014.
The civilians were killed by rebels from a Ugandan Islamist group called the Allied Democratic Forces (ADF) during a raid on the city of Beni late on Tuesday, Mayor Nyonyi Bwanakawa told Reuters.
The Center of Study for the Promotion of Peace, Democracy and Human Rights, a local activist group, also said ADF rebels had killed 11 civilians, mostly with machetes and hachets.
The government and United Nations have blamed the spree of massacres near Beni since 2014, most carried out with crude weapons, on the ADF but independent experts say some Congolese soldiers have also been involved.
Beni is one of several hotspots in eastern and central Congo where mounting violence has raised fears the massive Central African country could slide back into civil war.
Militia violence has spiked since President Joseph Kabila refused to step down at the end of his mandate in 2016 and it is unclear if a presidential vote to replace him will be held this December as scheduled.
Local army spokesman Mak Hazukay said the military had attacked armed groups on Tuesday and that troops were now targeting ADF strongholds in Virunga National Park, near the border with Uganda.
Congo and Uganda launched a joint military offensive against the ADF in January after the group was blamed for killing 15 Tanzanian peacekeepers during an attack in December.
The United Nations last month expressed concern for civilians caught in the midst of the campaign, saying nearly 370,000 people could be forced to flee their homes.
Tuesday's attack came the on same day the UN Security Council renewed for a year its Congo peacekeeping mission, which was first deployed during a 1998-2003 war that killed millions of people, most from hunger and disease.