Moon Jae-in: DPRK expressed willingness to abandon nuke
People's Daily app
1524238804000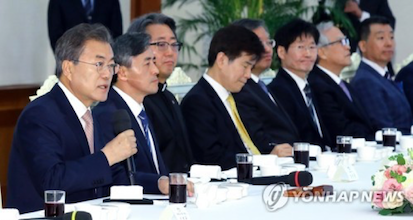 SEOUL (People's Daily) – South Korea PresidentMoonJae-in on Thursday said the Democratic People's Republic of Korea (DPRK) has expressed willingness to totally renounce its nuclear program.
Moon made the remarks as he held a meeting with the top executives of the local press, during which he also pointed out that the DPRK didn't demand that the US army withdraw from the South, a condition that "the US cannot accept." Moon said that the North only wants to ensure its security and demands a stop to the hostile policy towards it.
"We may speak of successful dialogue only when the first-ever North Korea-US summit is also held successfully, not just the South-North Korea summit," Yonhap news reported citing Moon's address. "We will need bold imagination and creative solutions to make the two summits successful and not repeat the mistakes of the past."
Moon also noted that South Korea and the US are working tightly together for the success of their upcoming summits with DPRK's leader and the success of his talks with the North will determine the success of the following US-DPRK summit. It is still too early to make any promises for success.
The president insisted that the ultimate goal of any talks with DPRK was to ensure peace on the Korean Peninsula.
As the inter-Korean summit is to be held next Friday, the two sides are working closely to prepare for the meeting. They set up a telephone line between their leaders on Friday and the South made the first call to check the line. The two leaders are likely to hold a telephone conversation before they meet next week.
Top photo: South Korea president Moon Jae-in (L) speaks during a meeting with the heads of local news press at his office Cheong Wa Dae in Seoul on April 19, 2018. (Photo: Yonhap news)