Straits drills to deter 'Taiwan independence' forces: analysts
Global Times
1524016461000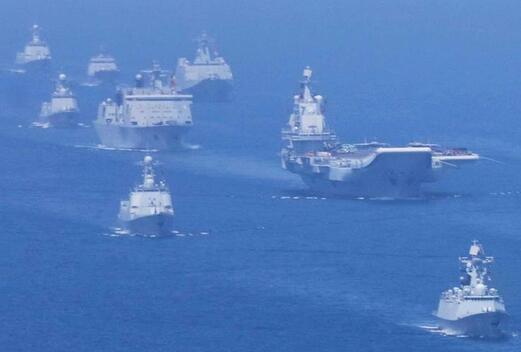 Live-fire military drills scheduled in the Taiwan Straits on Wednesday will serve as a strong deterrence to "Taiwan independence" forces as well as a warning to the US and Japan not to intervene in China's internal affairs, analysts said.
No vessels are allowed in the waters when the drills take place from 8:00 am until midnight on Wednesday, the Fujian Maritime Safety Administration announced on its website.
The drills come following the country's largest-ever maritime military parade in the South China Sea on Thursday.
It is a warning to the US and Japan who try to intervene and thwart China in dealing with the Taiwan question. China's military capability and confidence over the Taiwan question cannot be underestimated, said Song Zhongping, a military expert and TV commentator.
The drills will mainly be participated by the People's Liberation Army (PLA) Navy. The mission will likely focus on amphibious attacks, controlling the skies and command of the sea, as well as precision strikes on key targets, Song said.
The drills in the Taiwan Straits are expected to be larger than before, as the US and pro-independence forces in Taiwan show no restraint and have been getting closer after Tsai Ing-wen assumed office, Song added.
US President Donald Trump signed the Taiwan Travel Act in March, which allows US officials at all levels to travel to Taiwan.
Tsai left for Swaziland on Tuesday, a day before the military drills in the Taiwan Straits, Reuters reported.
Tsai won't stay at home and wait to be warned by the military drills, Yang Lixian, vice secretary-general of the National Society of Taiwan Studies, told the Global Times.
"Since Tsai attaches great importance to its 'diplomatic ties,' the number of which is declining, she won't risk losing any of them," Yang explained.
The drills are directly targeted at "Taiwan independence." But it's not a turning point of the mainland's policy toward the island, Yang said. "China insists on working on the Taiwan question along both lines. The mainland reacts tough to Taiwan separatist forces, but for the Taiwan people, the mainland treats them like family members by offering preferential policies."
Tsai presided over military drills of the island's navy on Friday, which marks the first time since she took office in 2016, Reuters reported.
"No matter how Taiwan's military reacts, it would be in vain. The island's defense capabilities are far lower than that of the mainland. When Taiwan tries to 'preserve itself' by throwing it into the arms of the US, it is more likely to be discarded," Song added.