China sees successful rise of a diverse range of Chinese films in 2017
Global Times
1514420721000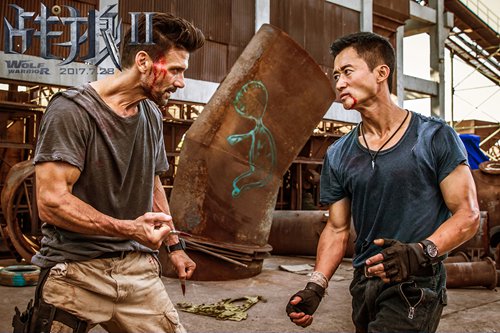 Promotional material for Wolf Warrior 2 Photo: IC

According to a report from Securities Daily, as of December 23, the total Chinese mainland box office for 2017 reached 53.4 billion yuan ($8.15 billion), a 17.47 percent increase from 2016's 45.46 billion yuan. While in general Chinese films may still be at a disadvantage compared with Hollywood productions as only eight of the top 20 highest-earning films of the year were either Chinese or Sino-foreign coproductions, some promising signs have emerged that the potential of the Chinese film market is more than a numbers game.
Commercial success
The top surprise this year is surely the explosive success of action blockbuster Wolf Warrior 2. Earning a total of 5.68 billion yuan in the Chinese mainland, it became the highest-grossing film in the market. Sitting at almost double the take of No.2 ranking The Fate of the Furious 8 (2.67 billion yuan), the film is sure to remain champion of the Chinese mainland box office for quite a while.
Despite diverse opinions concerning the film's overt patriotism, its position as the only non-Hollywood film among the top 100 highest-grossing films of all time worldwide has bolstered Chinese audiences' confidence in domestic films.
"[Wolf Warrior 2] is significant not only because it set a new box office record, but also due to how it bolstered the Chinese film market during the second half of the year," the Securities Daily report noted.
The report also emphasized the importance of this latter contribution, as the Chinese films performed fairly poorly after the Spring Festival season.
"During the four months after February 10, domestic films contributed very little to the Chinese box office. Especially in May and June, except for Reset, no Chinese film earned more than 100 million yuan. Domestic films contributed only 40 percent to the total box office, while imported films accounted for 60 percent, which was a very ominous signal," Wu Jian, senior data analyst for entertainment industry service platform Weiying, told the Securities Daily.
Fortunately, during the latter half of the year Chinese films like Never Say Die, Chasing The Dragon and Youth all achieved both box office success and positive audience reception.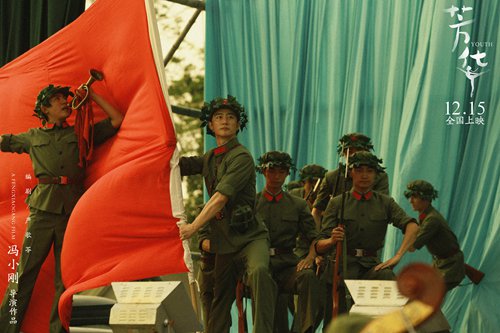 Promotional material for Youth Photo: IC
A diversified market
One of the noticeable features of the Chinese films released this year was their variety. Paths of the Soul, Mr. No Problem, Angels Wear White, The Looming Storm and other art films gained in prominence this year. Although they didn't necessarily make huge gains financially, they certainly made an impact on audiences by improving people's impression of Chinese film.
Even more niche than art films, documentaries also managed to make some waves in the Chinese film market.
Grossing 170 million yuan in China, the 2-million-yuan budget documentary Twenty Two became the first documentary film to break the 100-million-yuan mark in China.
Documenting the lives of the last living "comfort women" in China, Twenty Two received tremendous reviews from critics and audiences alike. Positive word of mouth allowed the film's screen share rise from 1.5 percent on its opening day to 9.6 percent by the end of its second weekend.
Along with Twenty Two, Return to the Wolves, which tells the story of a dying wolf cub who is rescued and raised by two human beings and then eventually returned to the wildernessto join a new pack, also caught the attention of audiences. An amateur documentary edited together from home movies of the wolf cub, it earned 32.93 million yuan at the box office and a score of 8.2/10 on Chinese media review site Douban.
The good performances of documentaries this year, however, could not have been achieved without previous works such as Born in China and Masters in Forbidden City paving the way in 2016.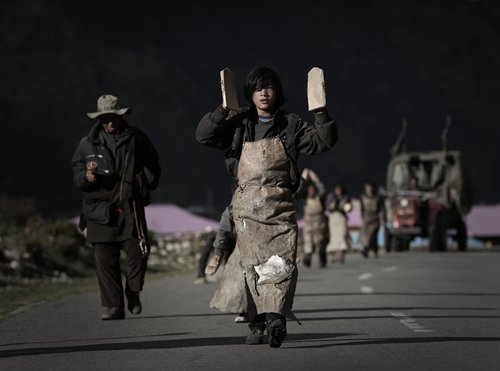 Promotional material for Paths of the Soul Photo: IC
Pushing boundaries
"Censorship is not as bad as everyone thinks. Limits are meant to be challenged," Yi Qiao, president of Chinese studio Color Room, told media during a promotional event for the studio's upcoming Golden Bear nominated animated crime film Have a Nice Day.
Color Room is the Chinese studio behind 2016's blockbuster animated hit Monkey King: Hero is Back and this year's well-received animated black humor film Da Hu Fa.
Released in July, Da Hu Fa caught audiences' attention over the summer with its violent scenes and biting social commentary the likes of which were usually regarded as too sensitive for the big screen in the past.
Even Busifan, Da Hu Fa's director, said he was surprised that the film had been approved by China's media watchdog.
"I didn't think that Da Hu Fa would be shown in theaters while I was making it, otherwise I would never had touched on some of those 'sensitive subjects,'" the director said at the event for Have a Nice Day.
Da Hu Fa was not alone in pushing boundaries further. Youth, veteran director Feng Xiaogang's latest drama, also surprised audiences with its straightforward way of dealing with the Sino-Vietnam War as well as its inclusion of a few violent scenes.
Ever since the 1980s, when films like Surprise Move in Snake Valley and Wreaths at the Foot of the Mountain tackled the Sino-Vietnam War, the subject has been rarely mentioned in Chinese films or TV dramas.
"There are no set boundaries or ceiling. If a work cares about people's lives and reflects social issues, and as long as it has a good level of artistic expression, there is always a chance that it will pass official review if you try," Yi added.