Report exposes abuse of power by US police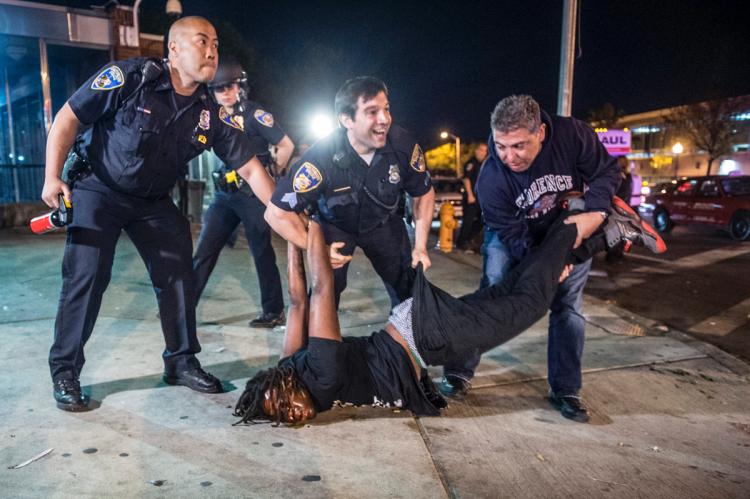 A Baltimore protester was seen pepper sprayed, pulled to the ground by police in a shocking confrontation captured on video. (File Photo)
Police in the United States abused their law enforcement power, according to a report on U.S. human rights released Tuesday.
The report, titled "Human Rights Record of the United States in 2017" and published by China's State Council Information Office, said violent law enforcement by American police had sparked mass protests.
U.S. law enforcement made an estimated 10,662,252 arrests nationwide in 2016, and the arrest rate for the United States was 3,298.5 arrests per 100,000 inhabitants, said the report citing FBI statistics.
According to the Washington Post's Fatal Force database, 987 people were shot dead by police in 2017, said the report.
The Washington Post reported on July 26, 2017, that American police shot and killed a man while trying to serve a warrant at the wrong house. The man did not have a warrant out for his arrest or a criminal record.
Almost 500 blacks had been fatally shot by police since 2015, said the report citing statistics released by Pew Research Center on January 11, 2017.
Violent law enforcement by American police had sparked mass protests, the report noted.
On the night of September 15, 2017, Protesters in St. Louis blocked highways, damaged public and private property, broke windows, threw rocks at the mayor's house and threw bricks at police officers after a white former police officer earlier in the day was acquitted in the 2011 fatal shooting of a black man. Thirty-two protesters were arrested.
"Time and time again, African-American men are killed by police, and nobody is held accountable," the report quoted one protester as saying.