IS kills 36 Syria troops in surprise attack on Damascus: monitor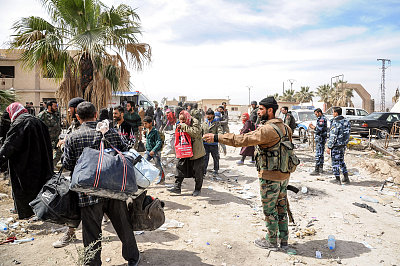 People are seen evacuated by Syrian forces from eastern Ghouta in Saqba, Syria, March 18, 2018. (File photo: VCG)
A monitor said Tuesday three dozen pro-government fighters were killed in a district of Syria's capital as Islamic State jihadists took control of it in a surprise nighttime attack.
There was no immediate comment from the government on the report by the Syrian Observatory for Human Rights, which could not provide casualty figures for the jihadists.
"IS took full control of Qadam, and 36 government troops and loyalist fighters have been killed," the Britain-based monitoring group said.
Dozens more were wounded or captured, or are still missing in action, Observatory chief Rami Abdel Rahman said.
IS launched the attack from positions it holds in the adjacent Hajar al-Aswad district, Abdel Rahman told AFP.
"Government forces are bringing reinforcements to the area around Qadam to try to retake it," he said.
Qadam lies in a southern part of Damascus and has for several years hosted a range of Islamist rebels and extremists, including IS and its arch-enemy, Al-Qaeda's onetime Syrian branch Hayat Tahrir al-Sham (HTS).
The Syrian government has used both military pressure and negotiated settlements to try to clear the area.
Last week, hundreds of HTS fighters evacuated the district under a deal with Damascus that granted them and their family members safe passage, with most heading northwest to Idlib province.
IS jihadists have even agreed to evacuate the district in the past.
The jihadist group put out a statement late Monday saying it had captured most of Qadam, including areas "surrendered" to government forces by HTS.
The district is smaller than and not connected to Eastern Ghouta, an area east of the capital which is home to hundreds of thousands of civilians and rebels.
Syrian troops are waging a separate offensive there.