China firmly opposes 'Taiwan Travel Act': spokesperson
People's Daily app
1521696255000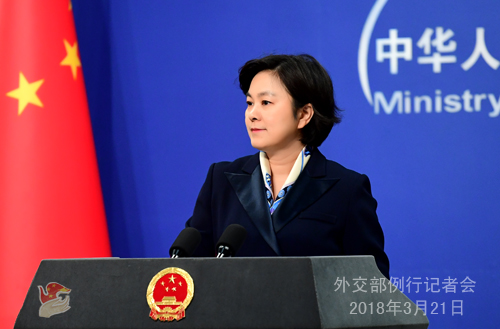 Chinese Foreign Ministry spokesperson Hua Chunying reiterated China's firm opposition to the so-called "Taiwan Travel Act" at a regular press conference on Wednesday, adding that China had lodged stern representations with the US.
Reports said Alex Wong, Deputy Assistant Secretary of the Bureau of East Asian and Pacific Affairs of the U.S. Department of State, is currently visiting Taiwan. He is the first US official to visit Taiwan after the US passed the bill, which encourages visits between the United States and China's Taiwan at all levels.
Hua urged the US to abide by the one-China principle and the three joint communiqués between China and the US, stop pursuing official exchanges and contacts in any form with Taiwan, and cautiously and properly handle Taiwan-related issues so as to avoid causing severe damage to China-US relations and cross-Straits peace and stability.