Domestic car firms rev up
Global Times
1524606377000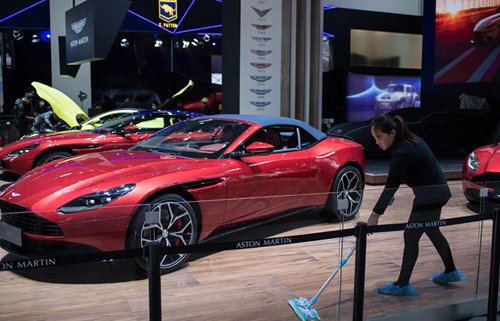 A worker cleans the floor prior to Auto China 2018 in Beijing. (Photo: AFP)

Domestic and foreign carmakers are set to show off their latest technologies in new-energy vehicles (NEVs) and intelligent cars at one of China's largest auto shows and announce their long-term plans in the increasingly vital Chinese market.

Auto China 2018 is set to open in Beijing on Friday, and Chinese carmakers are aiming to up the ante in their competition with foreign rivals, particularly in the NEV and sports utility vehicle (SUV) segments. Foreign carmakers will also reveal their plans to stay ahead in the world's largest market.

"China is the key to the international market and the key to our success," Volkswagen Group CEO Herbert Diess told a press briefing in Beijing on Wednesday, adding that the group will expand its operations in China.

Volkswagen will invest 15 billion euros ($18.3 billion) in China by 2022, almost half of the 34 billion euros the group plans to invest globally, according to Diess.

British carmaker Jaguar Land Rover also announced plans to expand its operations in China, going so far as to call China its "second home" and "strategic center."

"In the future, we will make China an all-round strategic center that covers production, innovation, procurement, brand experience and personnel training," Pan Qing, president of Jaguar Land Rover China, told a press conference on Tuesday night in Beijing.

At the press conference, the company announced several partnerships with Chinese firms, including telecom carrier China Unicom, e-commerce giant Alibaba Group and NEV battery maker Contemporary Amperex Technology Co, with the aim of developing NEV and artificial intelligence technologies.

Domestic rise

At this year's Auto China show, domestic companies are also expected to make a bigger splash, according to an auto industry insider, who spoke on condition of anonymity.

"I think most domestic car companies are increasingly feeling the need to step up as competition will only increase after the ownership limits are lifted," the insider told the Global Times on Wednesday, referring to the further opening-up of the sector pledged by China.

Of the 174 NEV models that will be on display at Auto China 2018, 125 are from Chinese companies, according to a press release on the official website of the auto show. Nearly a dozen Chinese car start-ups, including Nio, Singulato and Yudo, will make their debuts at the auto show, the press release said.

Doug Betts, senior vice president of global automotive operations at JD Power, said that Chinese carmakers, after years of catching up, are now in a good position to take on foreign carmakers.

"Chinese car companies are on an almost equal footing," Betts told the Global Times on Wednesday in an interview in Beijing. "Maybe the need for the domestic companies to learn is over."

Betts said that Chinese companies have learned a lot from foreign companies in terms of production and other operations, but in terms of going forward, Chinese and foreign carmakers are at the same starting point because new technologies will come from top-tier suppliers and are available for all.

But the competition will also involve reducing costs and improving convenience, he noted. "Ultimately a customer buys a vehicle based on economic valuation."