NAFTA autos origin rules could hurt US sales and exports: study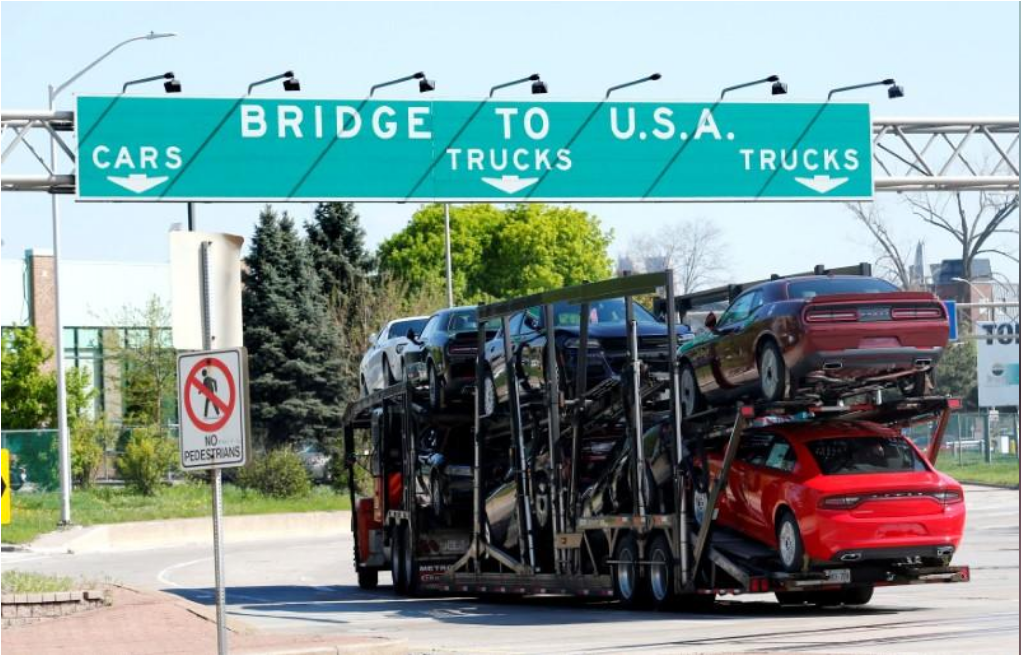 A car hauler heading for Detroit, Michigan, drives on the lane to Ambassador Bridge in Windsor, Ontario, Canada., April 28, 2017. (Photo: Reuters)
US proposals on rules of origin that govern what percentage of a car needs to be built in the NAFTA region to avoid tariffs would hurt American consumers, lead to lower US vehicle sales and hurt US car exports, according to a study released on Thursday.
According to the study, compiled by the Michigan-based Center for Automotive Research (CAR), the current proposals on rules of origin for autos could force some US automotive and parts manufacturing to move to lower-cost regions outside North America.
In talks to renegotiate the North American Free Trade Agreement between the United States, Canada and Mexico, US President Donald Trump's negotiators initially demanded that North American-built vehicles contain 85 percent content made in NAFTA countries by value, up from 62.5 percent now.
But industry officials say that has been cut to 75 percent, with certain components coming from areas that pay higher wages.
The rules have become a pivotal issue in talks on overhauling the 24-year-old trade pact.
Canadian Foreign Minister Chrystia Freeland said on Wednesday that good progress has been made at NAFTA trade talks on the key issue of auto rules, though they have been overshadowed by proposed US steel and aluminum tariffs coming into force next week.
Setting "very stringent" rules of origin "with the goal of bringing manufacturing back to the United States and the NAFTA region could have the opposite effect if the content targets are set too high, or the rules are too onerous," the study says.
CAR estimates that tariffs on vehicles that fail to meet the proposed new rules of origin would mean a minimum tax of between $2.1 billion and $3.8 billion on US consumers and if manufacturers passed on the entire cost it could reduce annual vehicle sales by up to 150,000 units.
The study states that the United States currently exports 2.4 million vehicles annually, which represents just over a fifth of US production.
"The US proposal would raise the cost of production, incur tariffs on US vehicle exports that do not meet the higher NAFTA content threshold and result in fewer US vehicle exports," the study says.
CAR also says in the study the proposal is aimed at boosting US and NAFTA automotive production capacity, but the US market is not growing to support new capacity.
"Global overcapacity poses financial risks to the companies, and automakers and suppliers are cautious about investment decisions since overcapacity compounded the industry's financial problems in the recent recession," the study says.